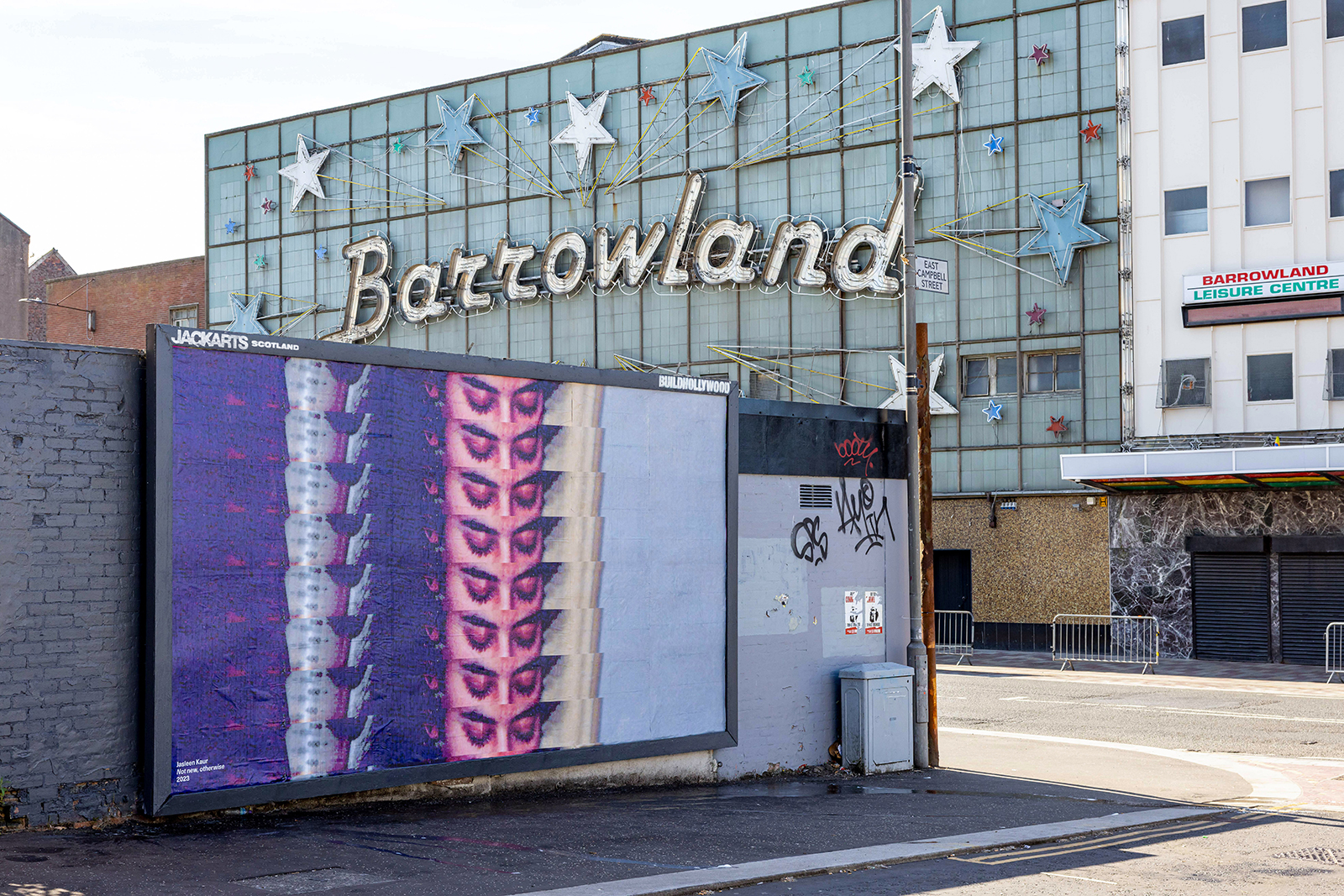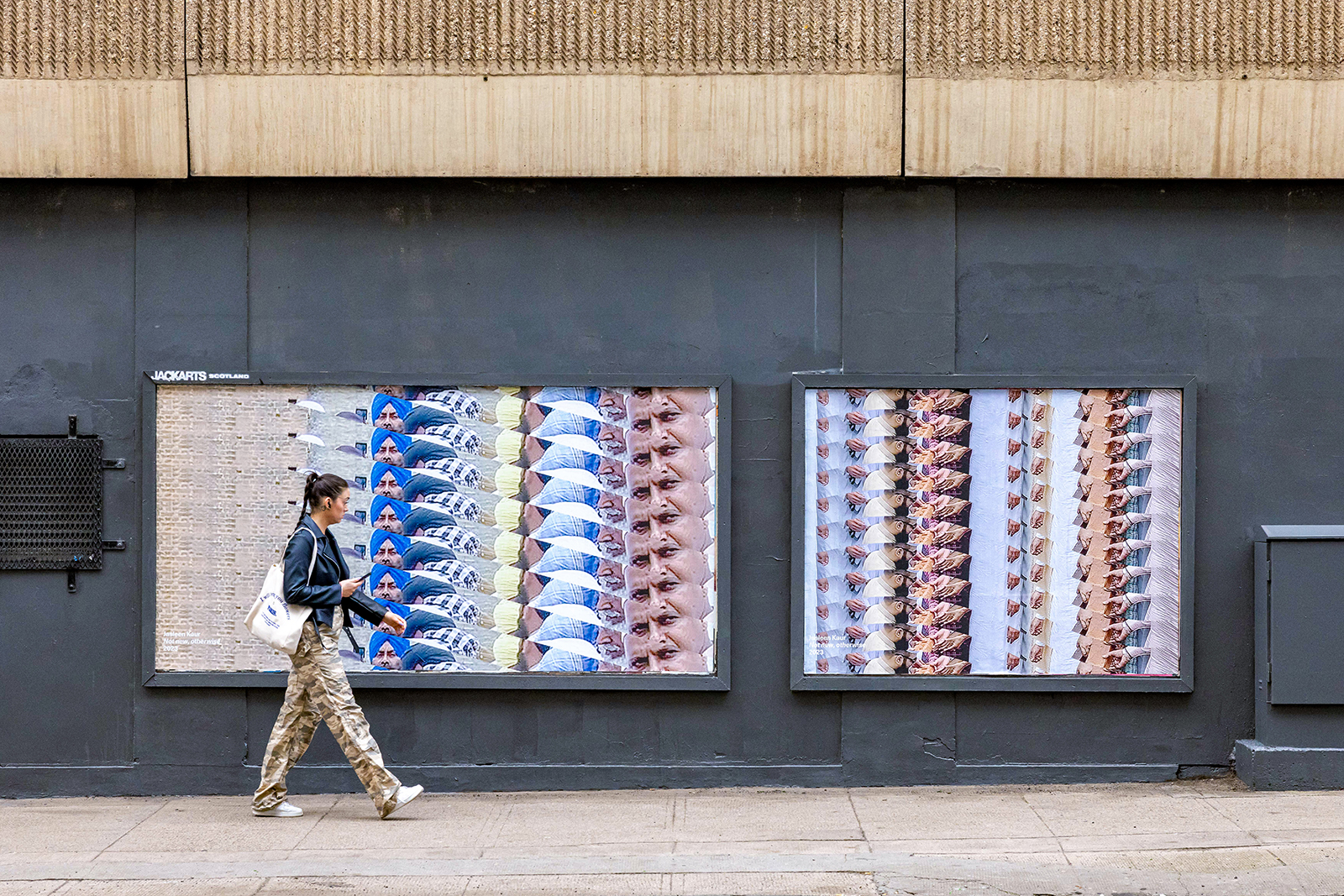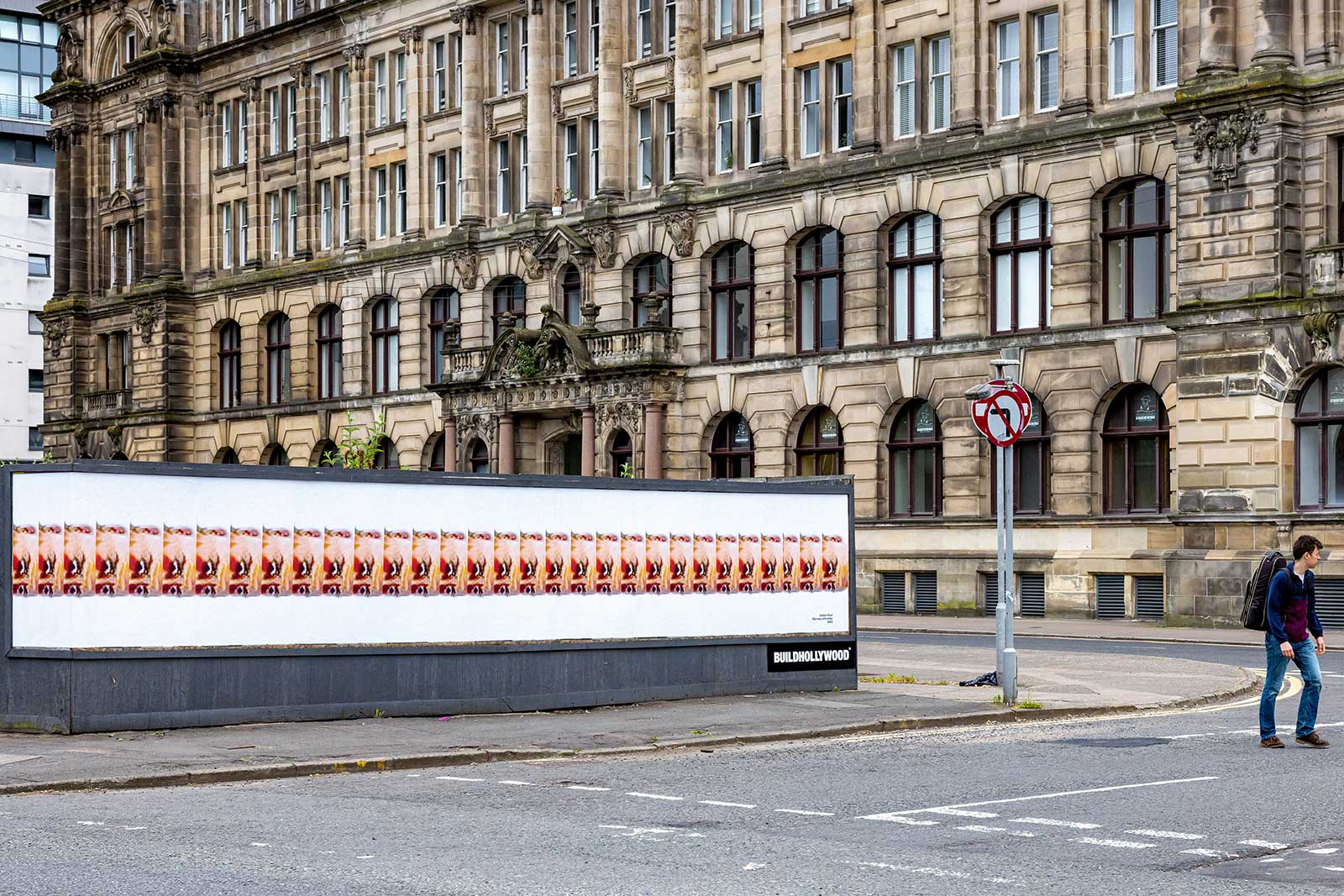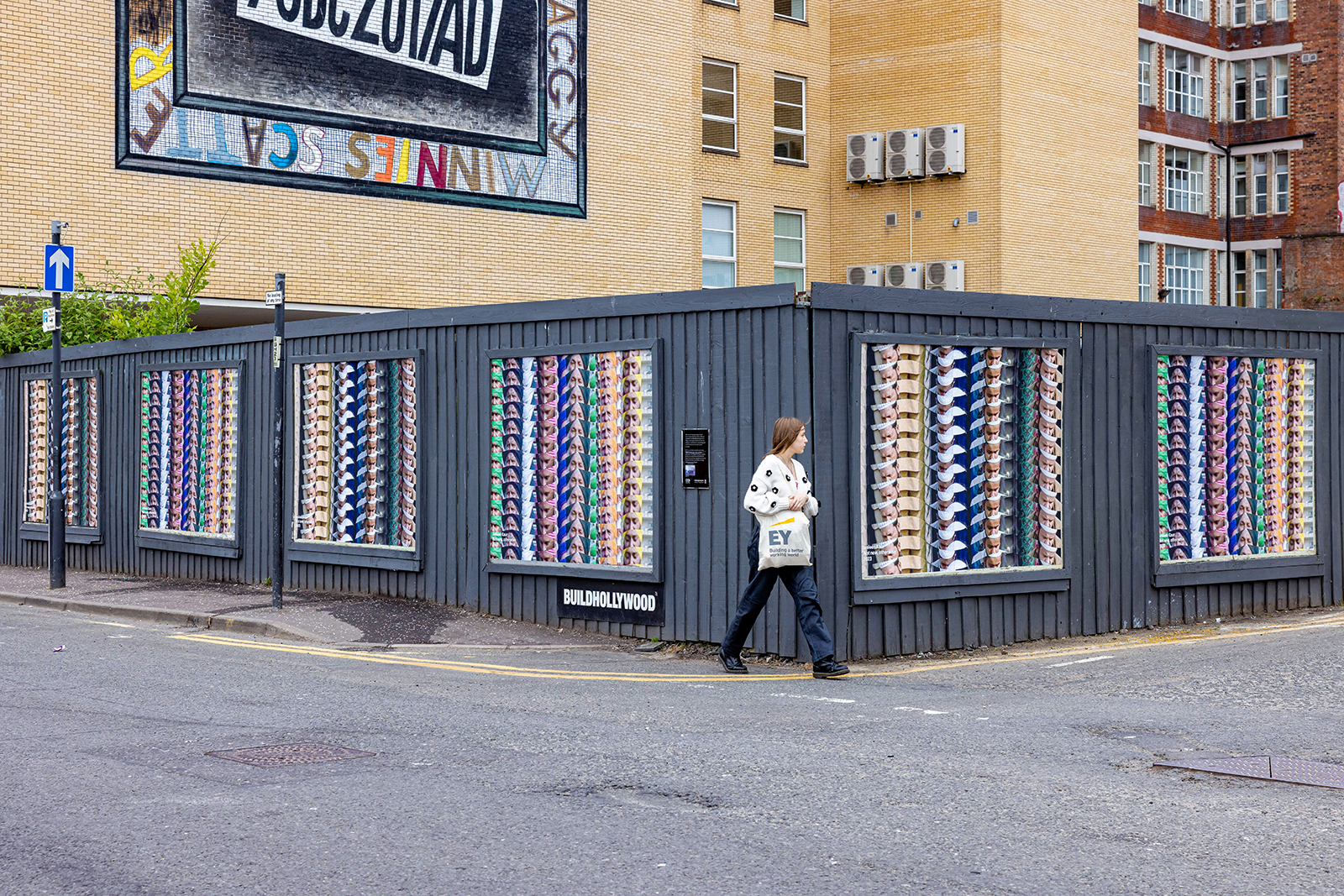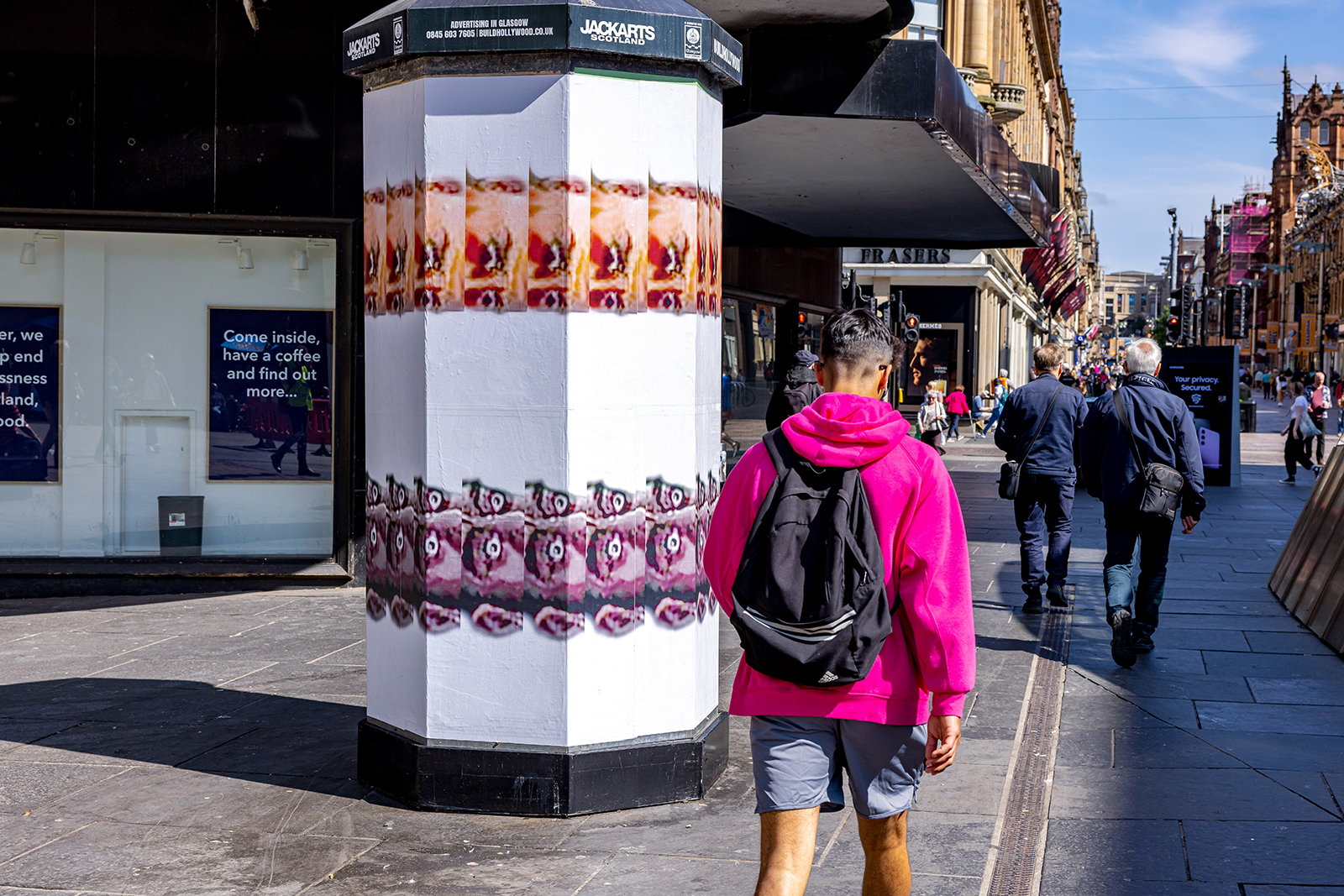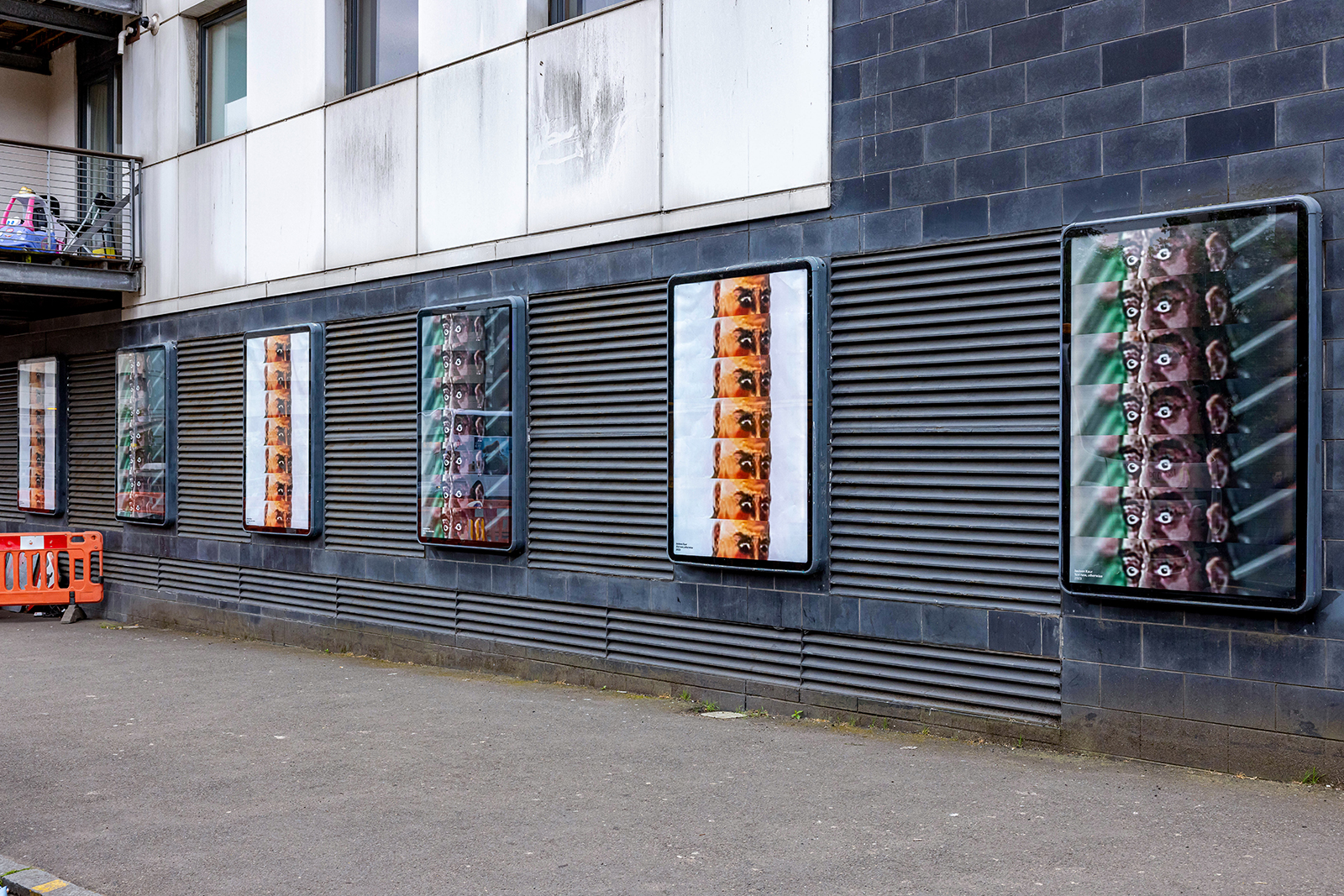 Jasleen Kaur
Glasgow 9–11 June
About the work
In All About Love, bell hooks talks about the early influence of gathering in church saying "spiritual growth is communion and fellowship". For Jasleen Kaur the communal, devotional worship spaces of her upbringing are also a sacred blueprint, but she is disinterested in fixed notions of tradition. Improvising with tradition and transmuting inheritance are the tools Kaur turns to for envisioning alternative futures and undoing agreed, inherited myths.
Not new, otherwise, 2023 by Jasleen Kaur is a new commission for 'All About Love' billboard and poster spaces across Glasgow, bringing together a series of altered images that she has inherited. Ranging from mass produced to the forgotten; among them are an image of an iconic Sikh freedom fighter, cartoonish representations of Moghuls, an early depiction of Guru Nanak and Mardana, images of protest and land repatriation in Punjab, India, and a photograph of a late aunt. 
Kaur sources images from memory of what circulated in worship and home spaces growing up, and in doing so critiques how the popularity or absence of an image shapes the stories you are given. Here, figures and histories connected to Kaur's lineage have been taken out of their original context, or sat alongside counter-images, challenging embedded narratives and offering new ones.
These images are a nod to origins but also disidentifications. The act of concealing and revealing — through a reassembled or cropped image —  is a tactic to direct our attention or withhold information. 
The full billboard takeover consists of an assemblage of 10 artworks.
In Duke Street we see an early depiction of Guru Nanak (the founder of the Sikh movement) and Mardana (his Muslim companion and rabab player) composing devotional music together, signalling to a pre-colonial Muslim-Sikh history of communal devotion. 
At The Barrowlands, an image of an unnamed aunt with downcast eyes appears as testament to female family members as a part of Kaur's political and feminist education. 
At Candleriggs, the aunt reappears alongside Bhindranwale, an iconic Sikh Freedom Fighter whose image fell out of circulation in 1984 following his assassination by the Indian State.
Two caricatures of Moghuls appear in West Graham Street, taken from popular Sikh Martyr images of the 1950s, depicting martyrdom, death and suffering, and synonymous with spaces in Gurdwara where blessed food is eaten. 
In Renfrew Street are images of land restitution between the Muslim and Sikh community in Moga, Punjab 2021, where foundations are being ceremonially laid for a mosque to be reconstructed.
And finally in Sauchiehall Street is an image that circulated on Twitter in 2020 of Sikhs standing in solidarity with Muslims offering namaz at the year long Indian Farmers Protests.
Artwork: Jasleen Kaur
Graphic Design assistance: Thomas Bush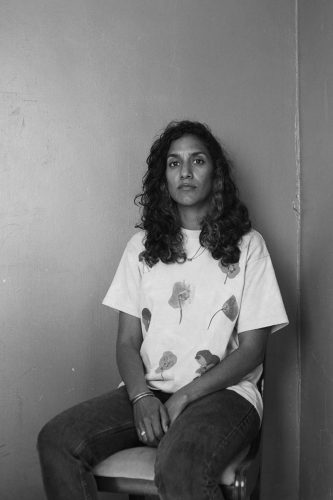 About Jasleen Kaur
Jasleen Kaur is an artist from Glasgow, Scotland. Her work is an ongoing exploration into the malleability of culture and the layering of social histories within the material and immaterial things that surround us. Her practice examines diasporic identity and hierarchies of history, both colonial and personal. Moving between sculpture, video and writing, Kaur initiates work that enables her to make sense of what is out of view or withheld.
Solo Presentations include Tramway, Glasgow (2023), as well as Wellcome Collection (2021), Touchstones Rochdale (2021), Humber Street Gallery (2021), Copperfield Gallery (2021) BALTIC Centre for Contemporary Art (2019) and Hollybush Gardens (2018). Her book Be Like Teflon launched at Glasgow Women's Library in 2019 and she was a recipient of the Paul Hamlyn Artist Award in 2021. Her work is part of the permanent collection of Arts Council, Touchstones Rochdale, Government Art Collection and Crafts Council.
Locations
The weekend-long takeover from 9-11 June will see Kaur's work presented on thirty billboards located in prominent sites across Glasgow including Barrowlands, Candleriggs, Duke Street, Osbourne Street, Renfrew Street, West Graham street.
Images: Jasleen Kaur, Not new, otherwise (2023) for All About Love commission by BUILDHOLLYWOOD.
Photo: Ian Mackay