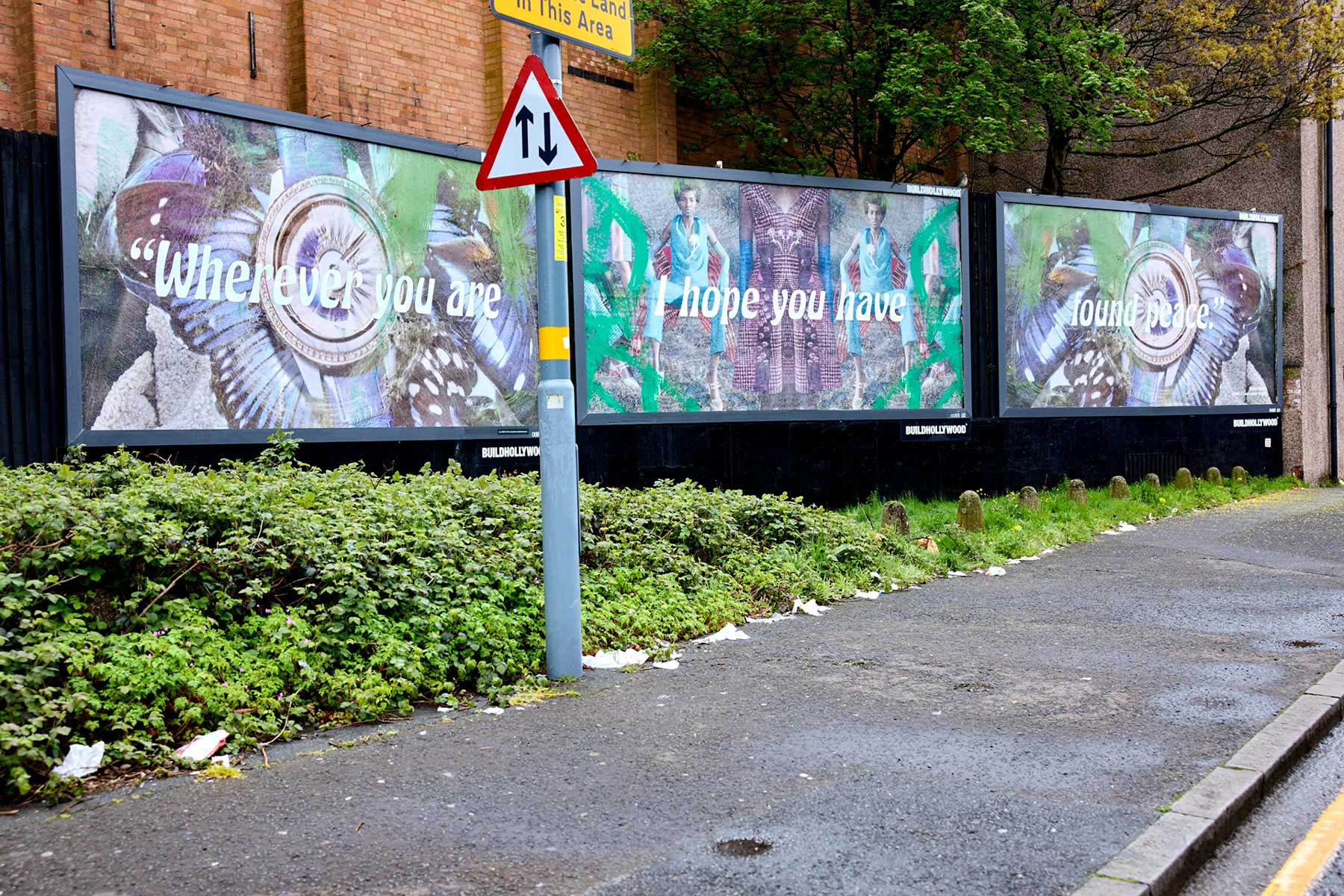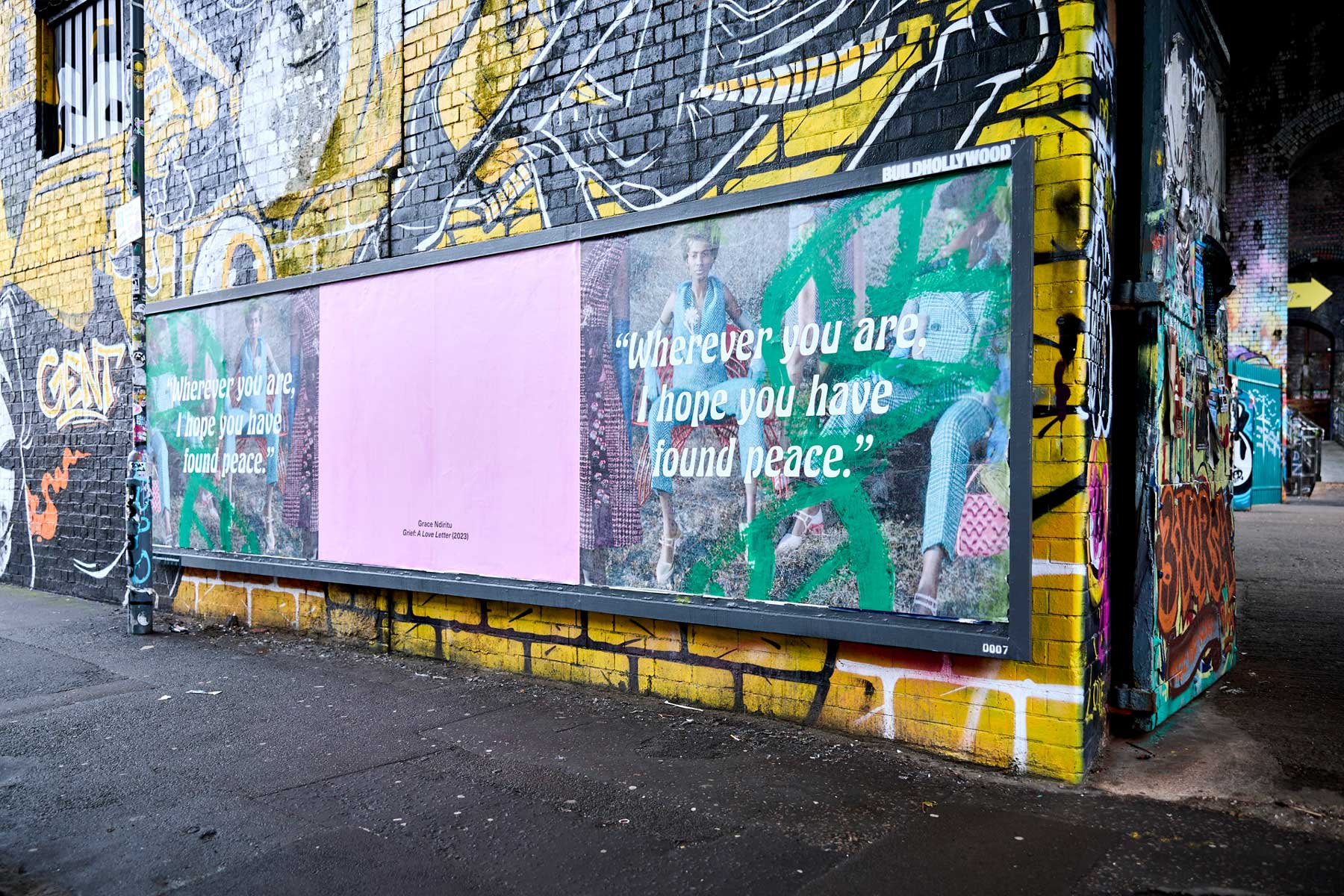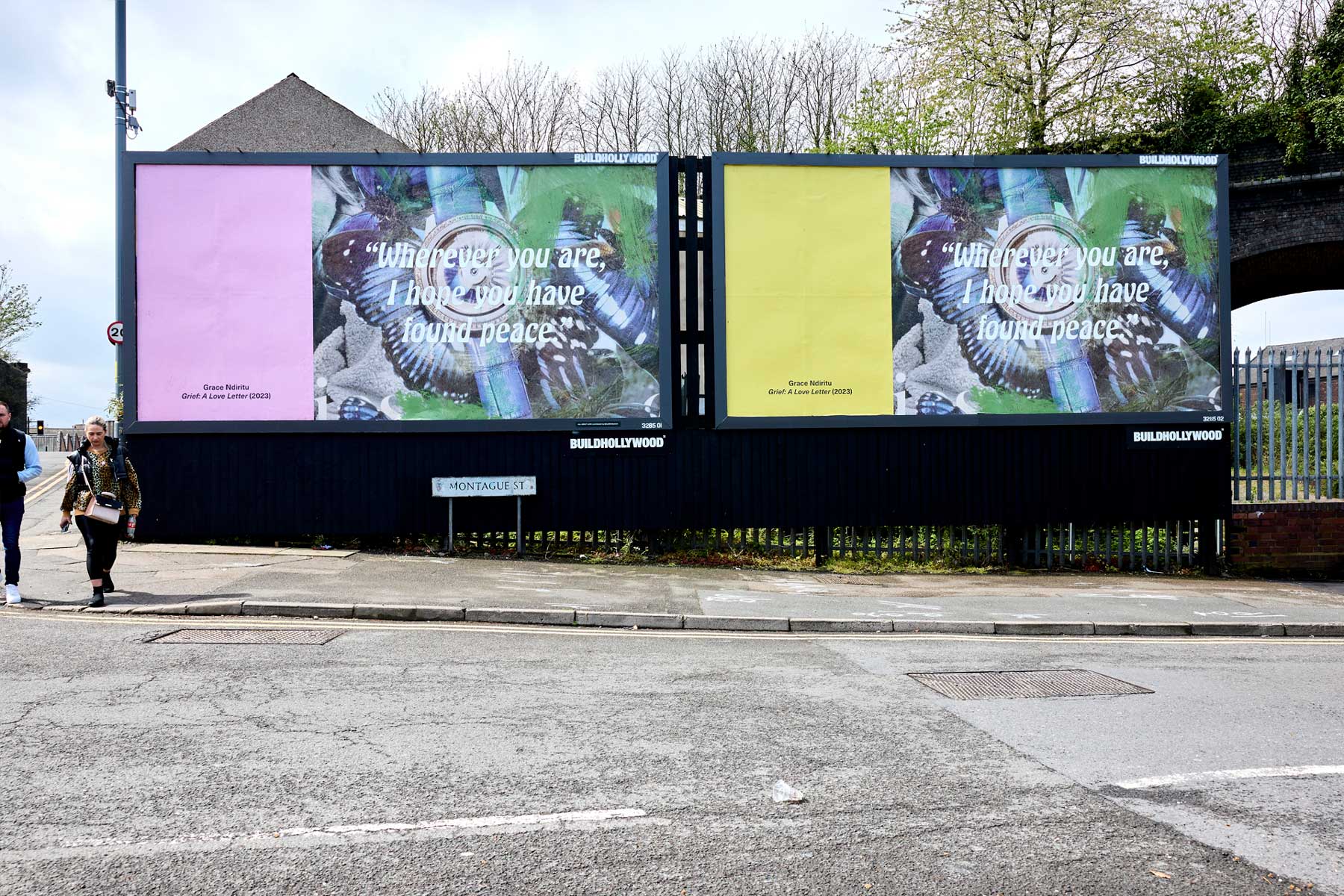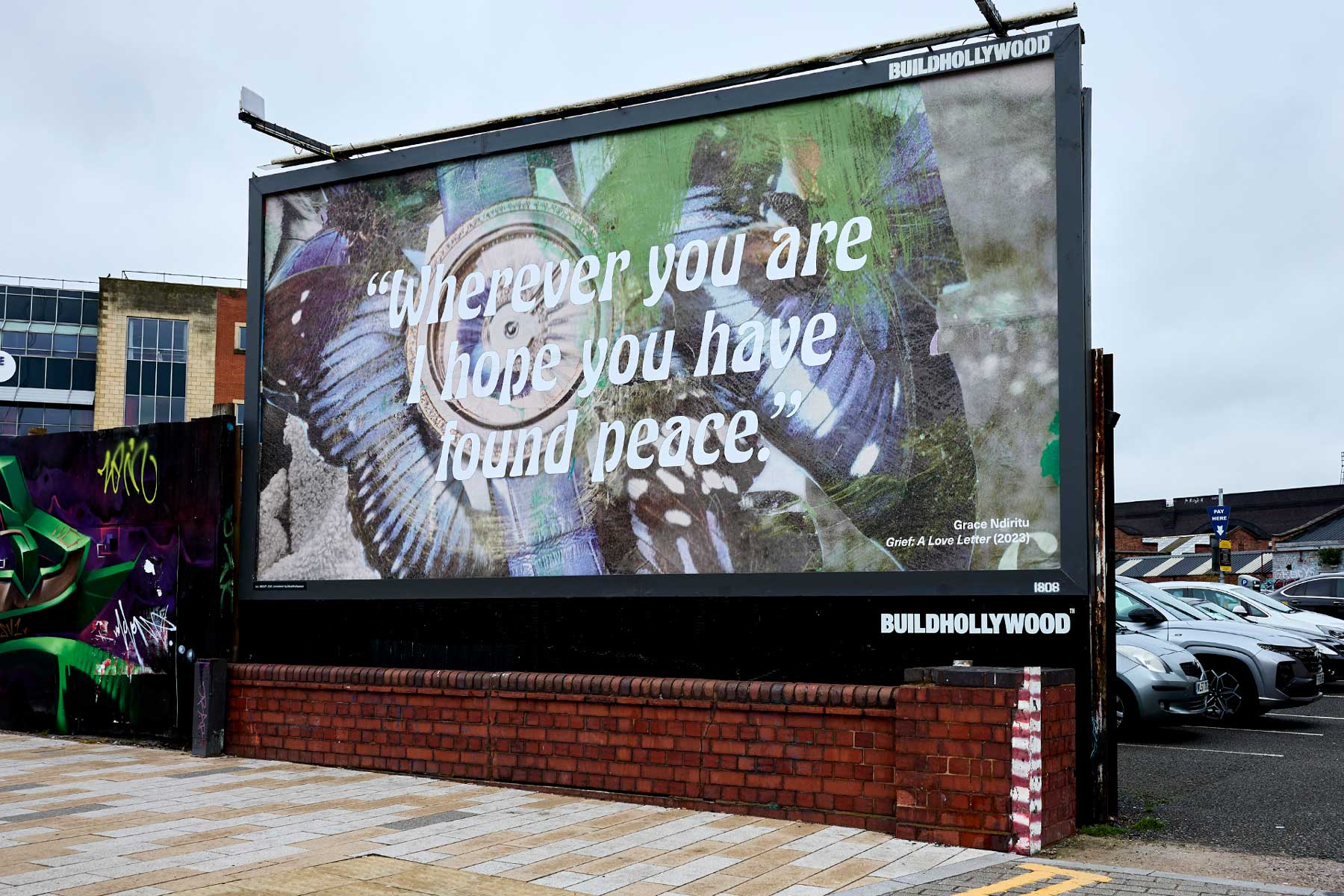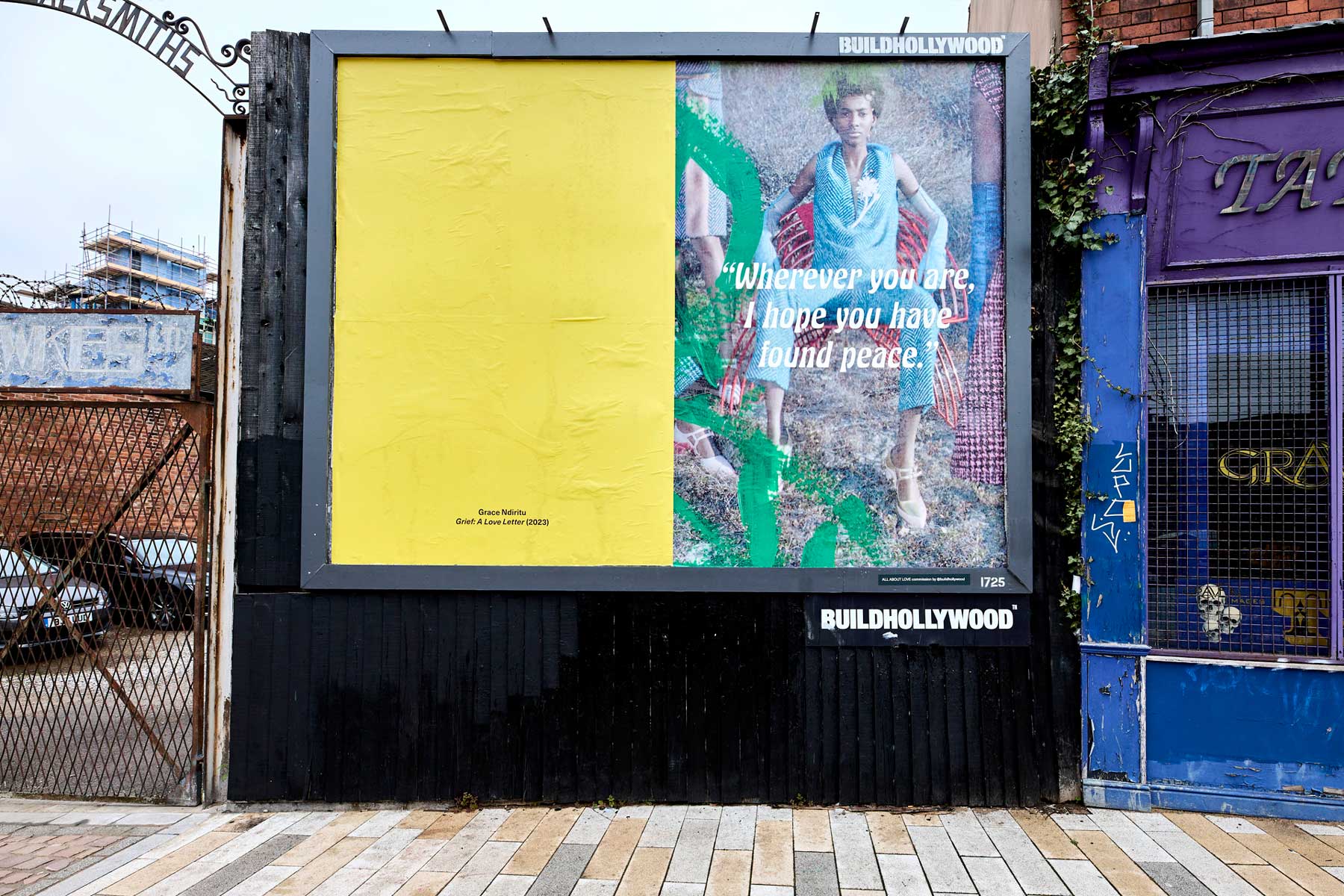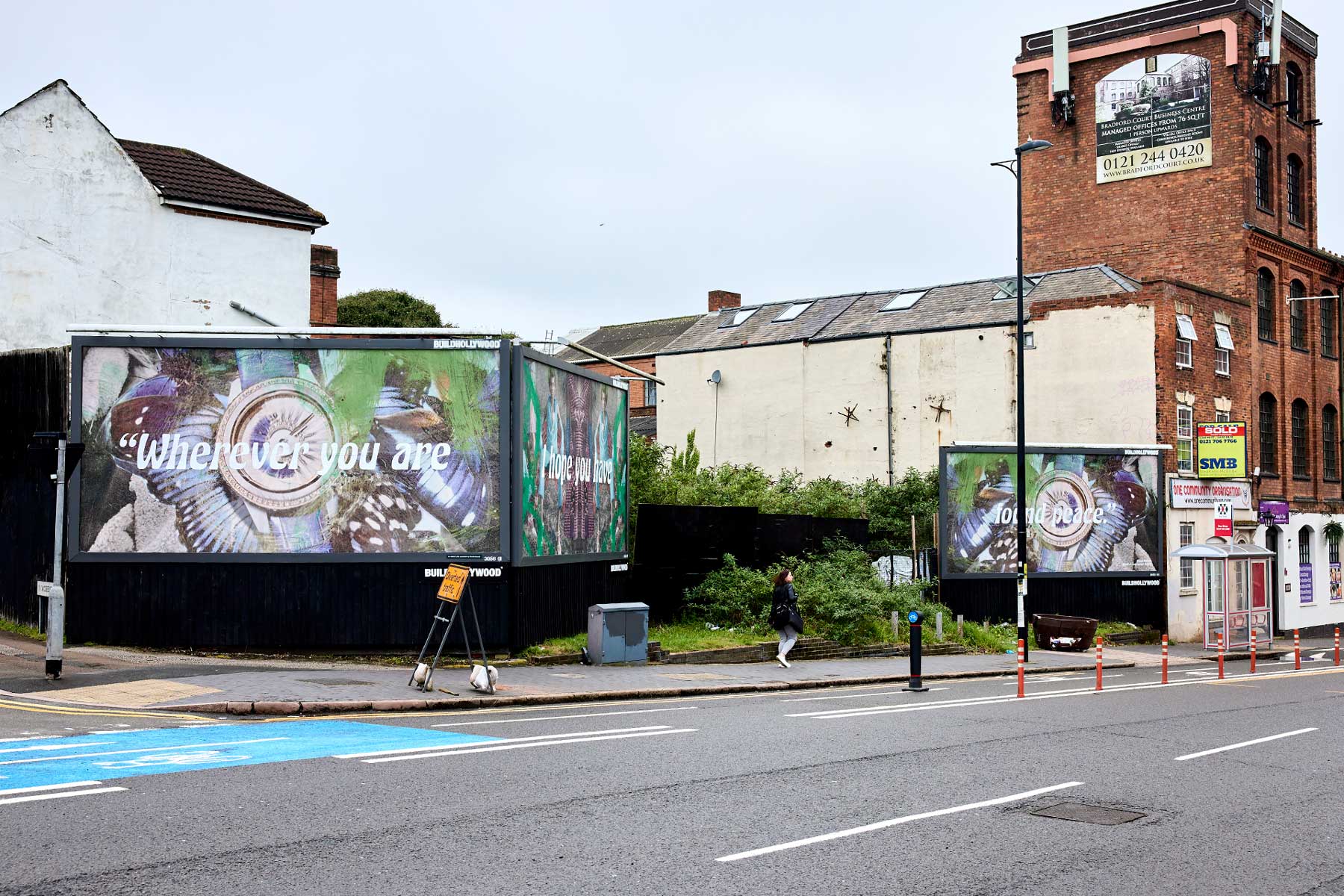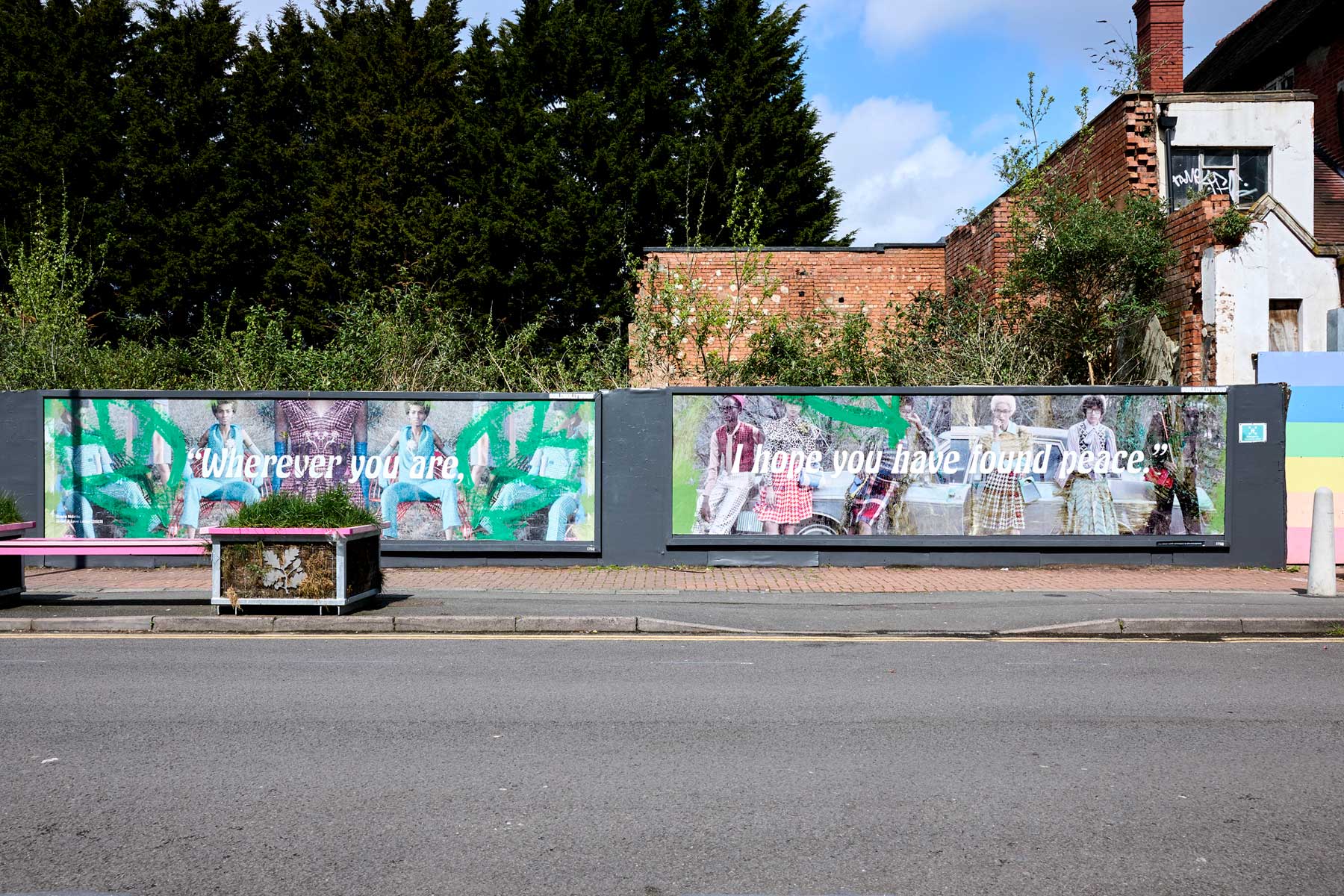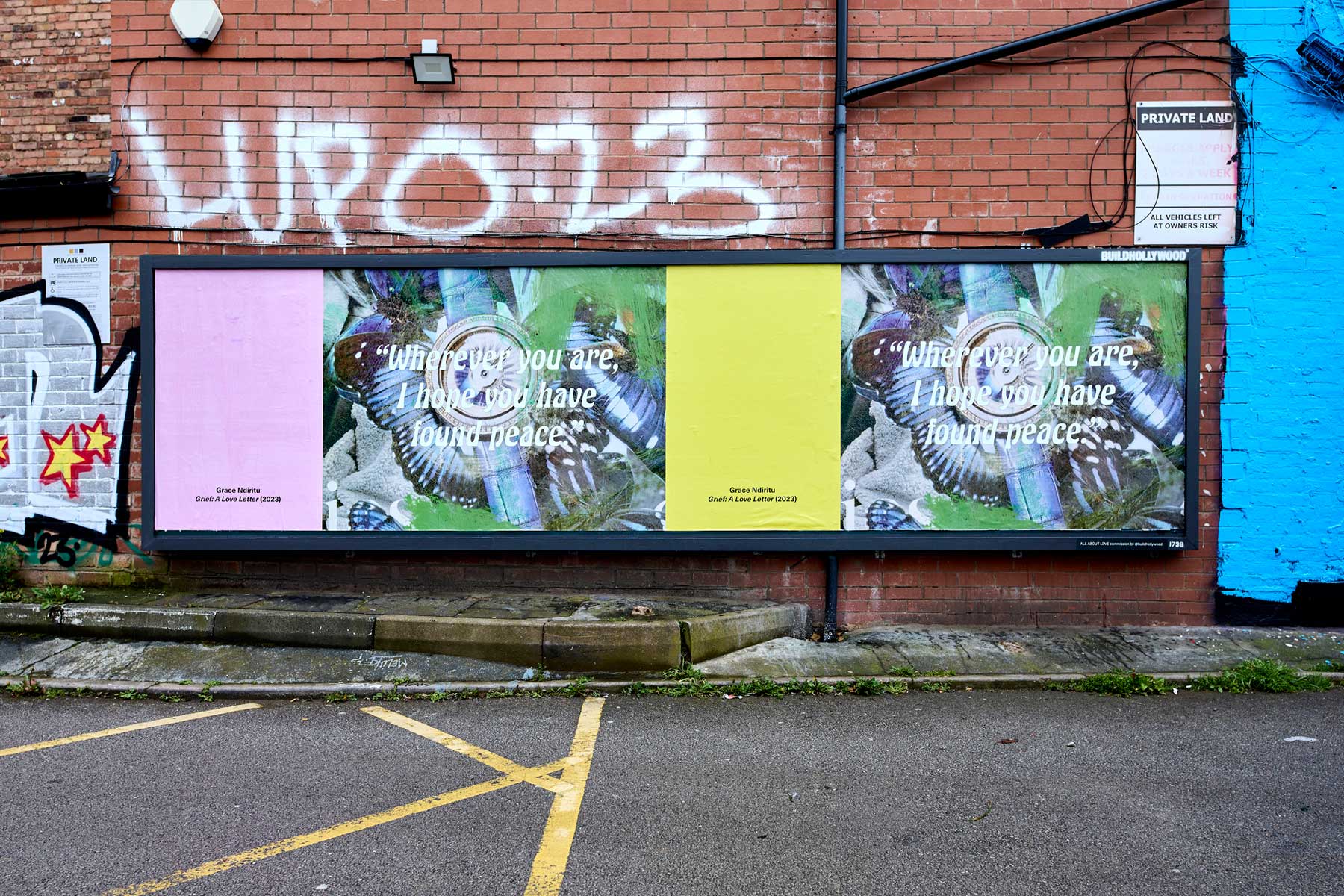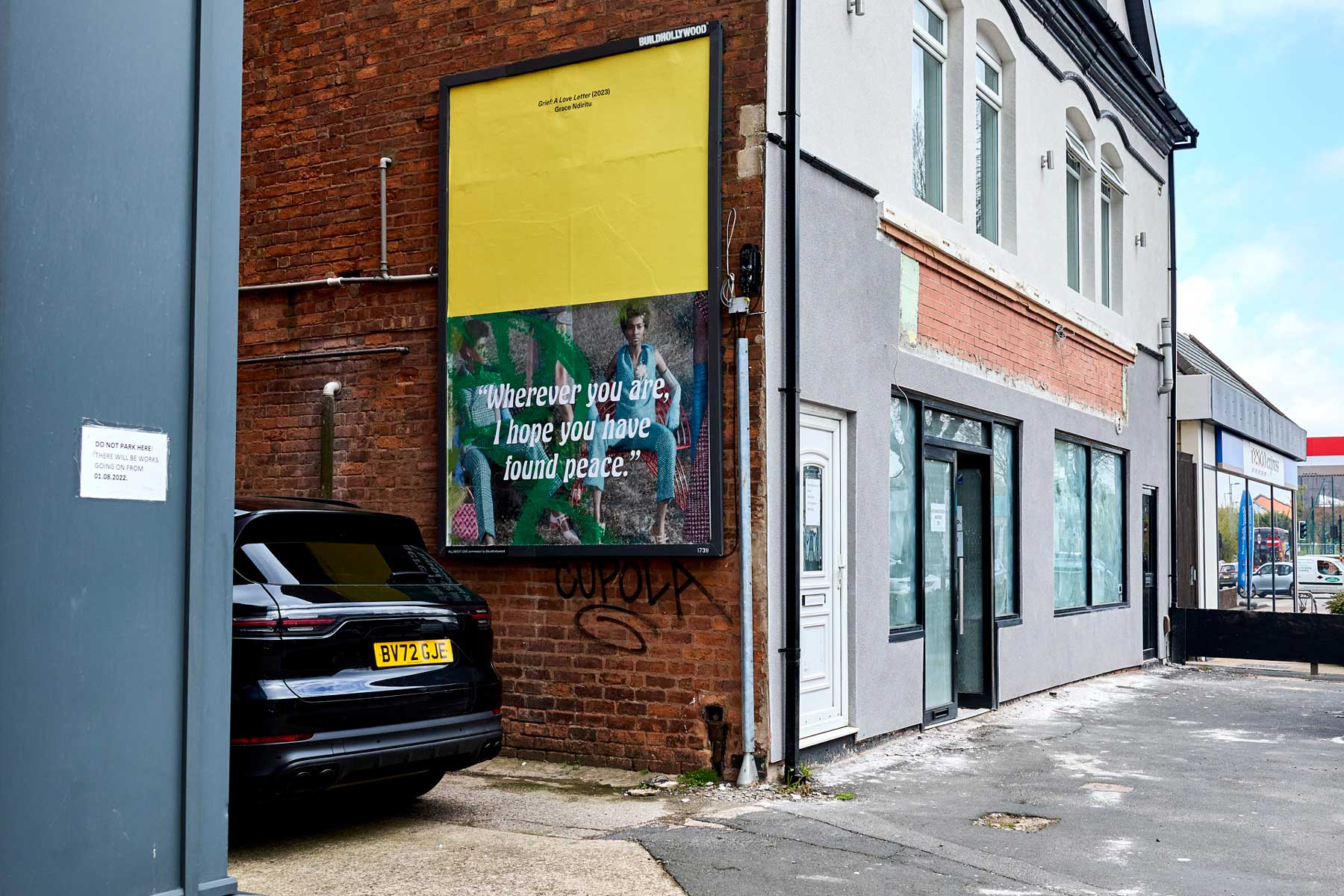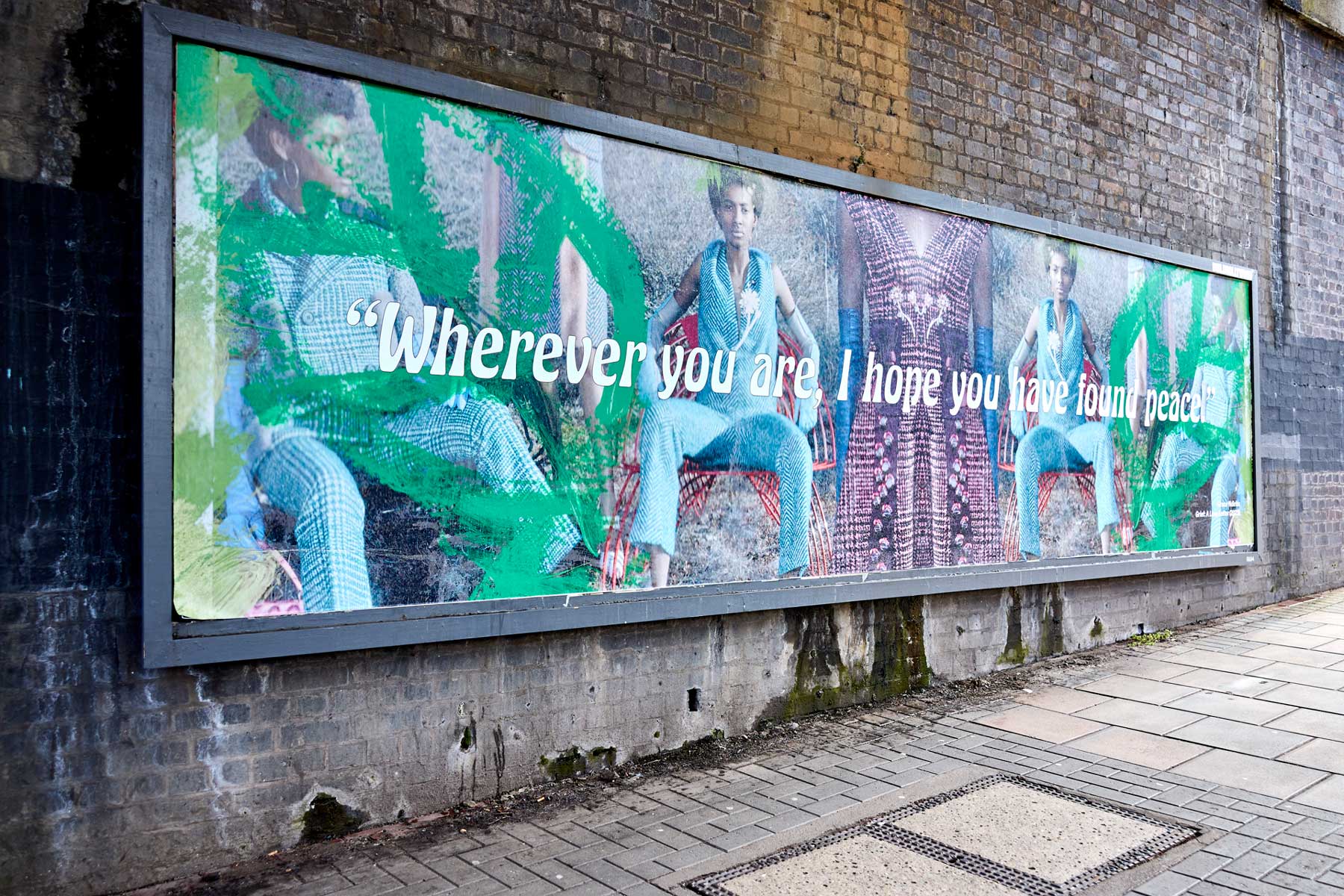 Grace Ndiritu
Birmingham 28–30 April
About the work
Grief: A Love Letter, 2023 by Grace Ndiritu, a new commission for 'All about Love', is inspired by a love letter written to the artist's mother and one of her favourite artists Mike Kelley*. The themes of death, motherhood, ambiguity of race, class and gender issues are all things that were deeply embedded in bell hooks' own writing. As working class artists from postindustrial cities (Detroit and Birmingham), Mike Kelley and Grace Ndiritu can be an inspiration to a new generation. Therefore it is appropriate to take such a personal and tender quote from the letter onto the billboard: "Wherever you are I hope you have found peace''. The background image is drawn from Ndiritu's own painting practice and her examination into Consumerism when juxtaposed against signs of Nature. Specifically in Grief: A Love Letter we view the glossy fashion imagery accustomed to seeing on billboards now obscured by hand painted drawings of leaves. 
"A green leaf grows over the glossy page of a fashion magazine. Hand-applied paint turns a Gucci ad into an abstraction. An Ebola fighter peeks out from under splotches of sky-blue on the cover of Time. These are a few of the impressions that mark an encounter with Post- Hippie Pop Abstraction. This body of work, which Ndiritu began in 2015, explores "the idea of the sweatshop from three juxtaposing yet overlapping angles"– the artist examines how indigenous tribes, studio artists, and third world workers all labour for the New Age, art, and luxury fashion markets, respectively. In each case, these workers, who are disenfranchised to varying degrees, produce aesthetics and products for the elite. What begins as authentic culture and creativity is transformed through global processes into commodities for the West. The solution to this, Ndiritu proposes in her work, is a return–to a connection with nature, to an appreciation for materiality, to centering the most vulnerable among us." Ifeanyi Awachie, 2022 published on the occasion of the solo exhibition Grace Ndiritu – Post-Hippie Pop Abstraction (2022) at Arcade, Brussels. 
*'Grief: A Love Letter to Mike' was first commissioned by Tate Publishing for publication in Mike Kelley: Ghost and Spirit, London 2024.
Concept and artwork: Grace Ndiritu
Graphic Design: Grace Ndiritu & Martin McGrath Studio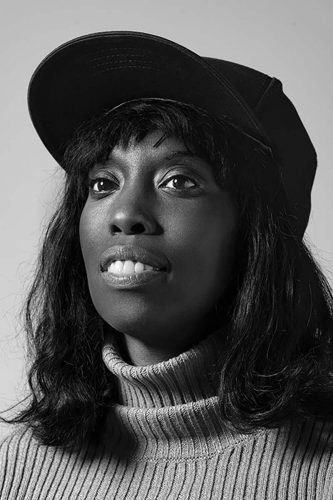 About Grace Ndiritu
Born in Birmingham, Grace Ndiritu is a British-Kenyan artist whose artworks are connected with the transformation of our contemporary world, through her films, photography, paintings and social practice projects with refugees, migrants and indigenous groups. Works like The Ark: Center for Interdisciplinary Experimentation; COVERSLUT© fashion and economic project; and shamanic performance art series Healing The Museum have been shown all around the world. 
 Ndiritu has been featured in The Guardian, TIME, Artforum, Art Review, Art Monthly, Elephant, BOMB, and Phaidon's The 21st Century Art Book. Her work is housed in museum collections such as The Metropolitan Museum of Art (New York), The British Council (London), LACMA (Los Angeles), Foto Museum (Antwerp), and The Modern Art Museum (Warsaw). Her writing has been published by Migros Museum, Bergen Kunsthall, Whitechapel Gallery, The Paris Review, MIT Press, Metropolis M and Oxford University Press. Her 'hand-crafted' videos; textiles, painting, photography, shamanic performances and films have been widely exhibited in solo and group exhibition including at the British Art Show (2021 to 2023), Wellcome Collection, London (2022), Gropius Bau, Berlin (2022), Kunsthal Gent (2021), Nottingham Contemporary, UK (2021) and international film festivals like the 72nd Berlinale, FID Marseilles and BFI London Film Festival. She is also the winner of The Jarman Film Award 2022 in association with Film London. Her mid-career survey entitled Healing The Museum at S.M.A.K., Ghent from 1 April to 10 September 2023. The exhibition will include a new monographic publication by Motto Books for the occasion. You can also see the major new collection show she has curated at FOMU, Antwerp entitled Grace Ndiritu – Reimagines The FOMU Collection from 17 February 2023 until 2024. She is represented by Kate MacGarry, London. 
Locations
The weekend-long takeover from 28-30 April will see Ndiritu's work presented on thirty billboards located in prominent sites across Birmingham including Custard Factory, The Old Crown Pub, Barford Street and Floodgate Street.
Special events & performances 
On Saturday 29 April, Ndiritu will host a performative event where she will be joined at Digbeth Art Space in reading on Grief and Love by artists and writers, from or based in Birmingham: Alisha Samms, Annabel Pettigrew, Brenda Hickin, Fatima Diriye, Hassan Ul-Haq, Izzy McEvoy, Jaz Morrison, Kalyan Largie, Lara Beaseley, Leah Hickey and Samiir Saunders. The event will also feature guest contributions by Tasneim Zyada, Jo Mason and Nicola Small.
Images: Grace Ndiritu, 'Grief: A Love Letter' (2023) Birmingham. All About Love commission by BUILDHOLLYWOOD. Photo: Kevin Lake