Cities
Our city poster schemes are unique with formats tailored to local needs. We have representatives on the ground in each location full of local knowledge to help you with your campaign.
Birmingham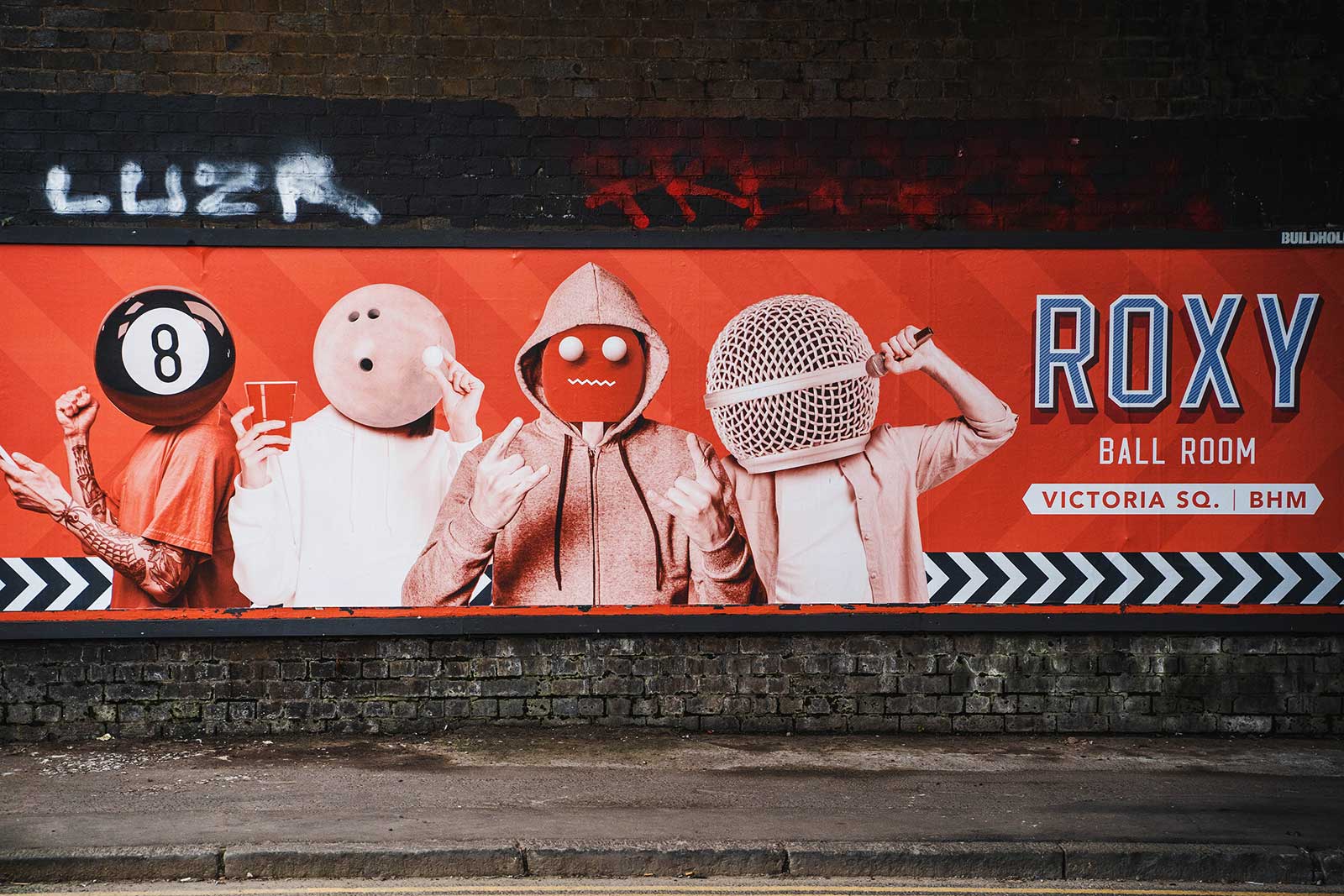 While the first image that comes to mind when you think of Birmingham might be the bubble-wrap architecture of the Bullring Shopping Centre, it's far from the only draw. The West Midlands city rivals neighbours like Nottingham with its venues and bars, from the O2 Institute to the Sunflower Lounge. Its huge, sprawling population of over 1 million diverse residents mean that you're never short of things to do, eat or see. The city enjoys some of the best food in the country, from Indian restaurants to the street food of Digbeth Dining Club.
Birmingham has more miles of canals than Amsterdam, and the buzzing network of waterways is lined with pubs, venues, and independent shops to get lost in. We're proud to build on Birmingham's street art scene, particularly its graffiti festival City of Colours, by reaching the city's lively residents and its visitors in billboard sites where creative feet pound the pavements, whether it's Digbeth, Adderley Street, High St Deritend or Heathmill Lane. We've even got iconic spaces like Rainbow Venues and The Arches Project covered, and we're proud to be a part of Birmingham's ever-blossoming scenes.
Clients
Birmingham City University
Birmingham Design Festival
Birmingham Hippodrome
Birmingham Music Archive
Birmingham REP
B:Music
CBSO
Eastside Projects
Ikon Gallery
Moseley Folk & Arts Festival
Brighton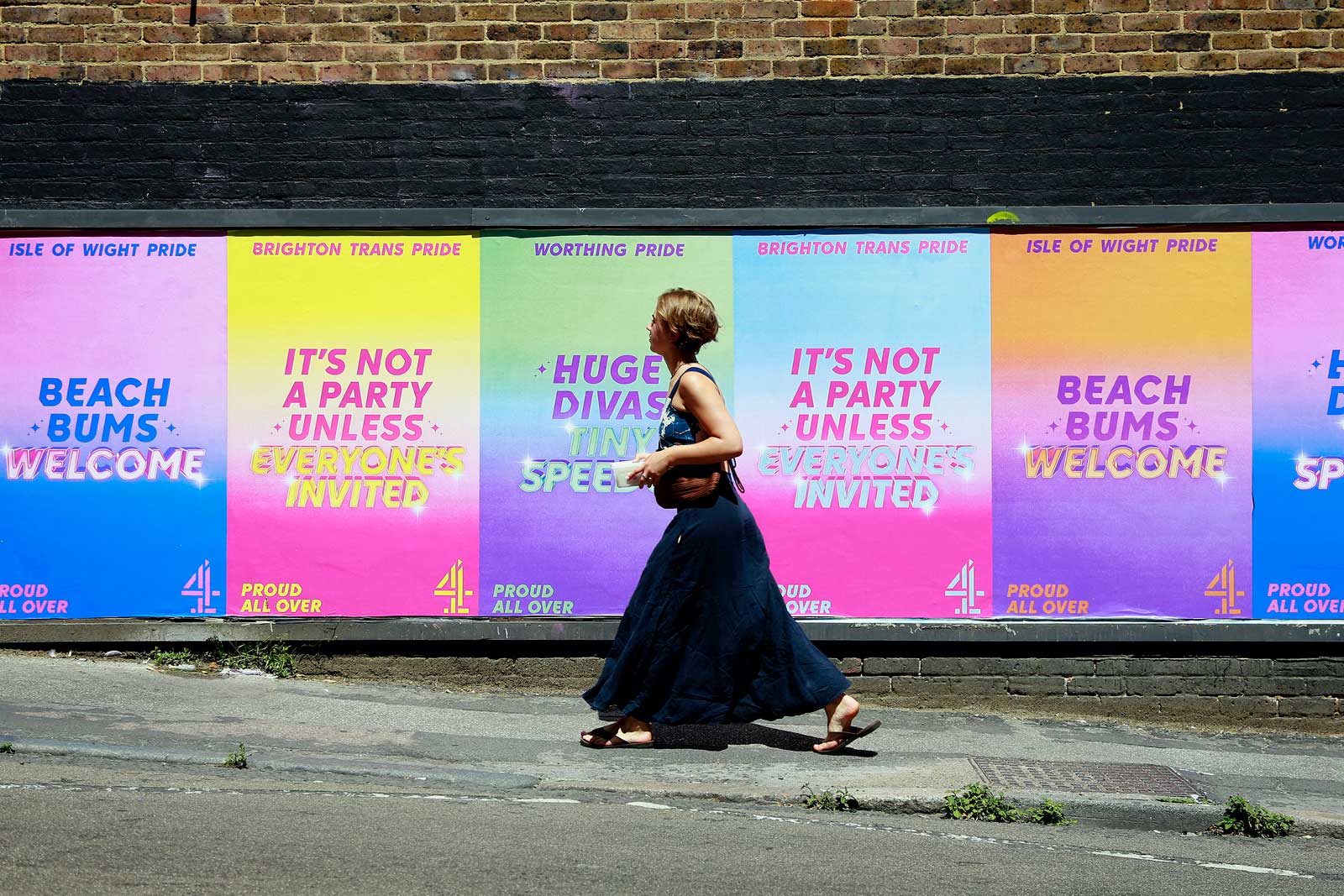 Brighton is one of the UK's most popular destinations for creatives, artists and students seeking a slower, more wistful way of life. Far from the drudgery of some UK seaside towns, Brighton turns every cliché on its head with a dreamy cityscape drawn of winding streets and pastel houses. Whether it's North Laine for its independent shops and cafes, The Lanes with glittering jewellery shops and restaurants, Kemptown for the LGBT scene or The Royal Pavilion for something a little more traditionally cultural, Brighton has it all.
With thousands of visitors every year coming through to just take in the vibe, attend the huge, vibrant, world-renowned Pride festival or check out new music at The Great Escape, Brighton overflows with a diverse population even in the off-season. Our poster sites decorate the streets of the city all the way through this distinctive city from Kemptown through to Hove, catching the eye of passers-by who know and crave their culture.
Clients
Brighton and Hove Council
Photoworks Festival
The Great Escape
Komedia
Form
Charleston
Phoenix Art
Bristol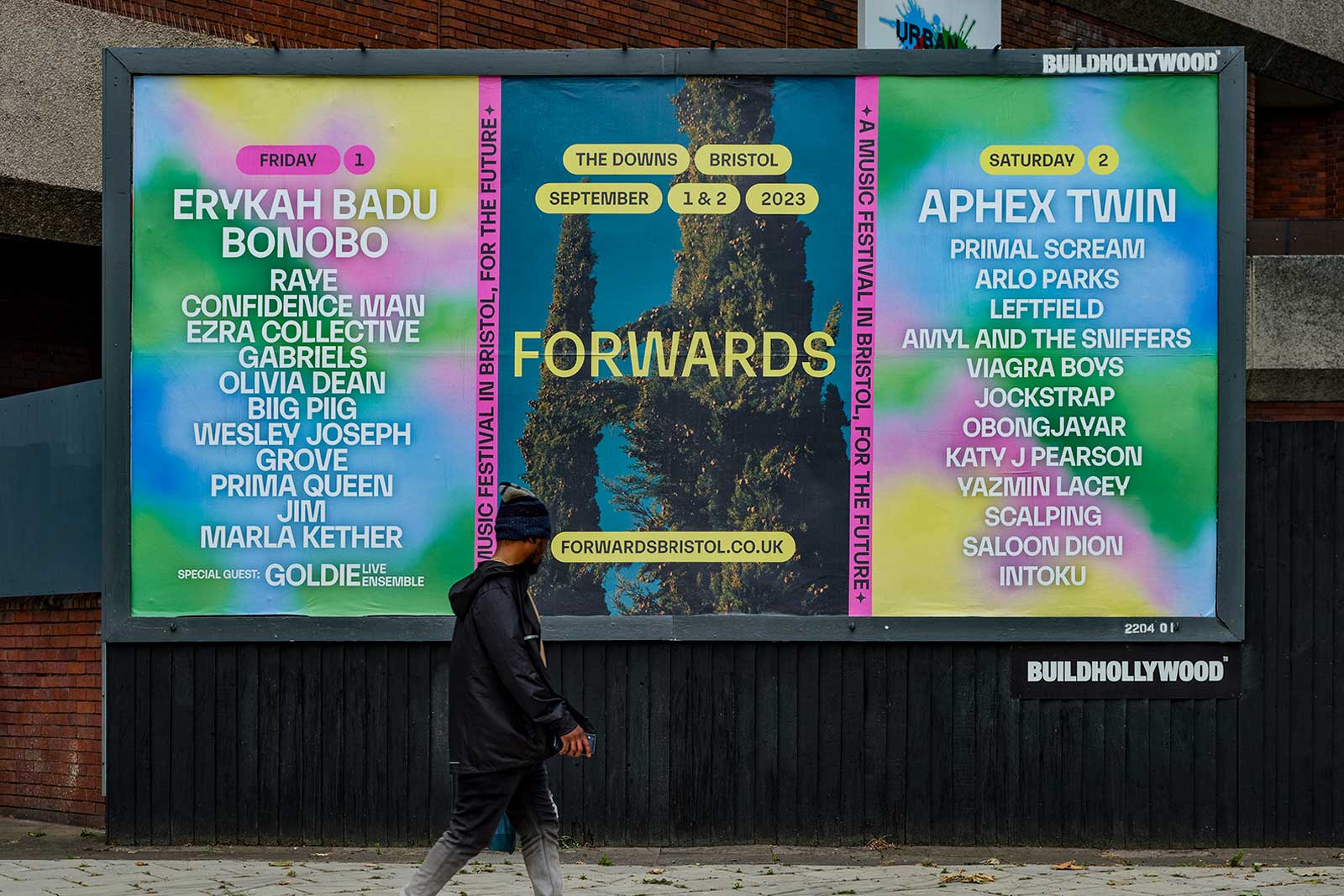 The largest city in the South West, every corner of Bristol is stuffed to the brim with colour and culture. The city and its surrounding area is rich with natural and historical beauty: the Clifton Suspension Bridge, the Cotswolds hills, the harbour, peaceful nature reserves. In the centre, narrow streets hold independent shops, music venues like the Fleece and the iconic Hippodrome, and dozens of art galleries and museums.
If you're visiting, there are events for everyone, from the Bristol International Balloon Fiesta to music festival Simple Things. Bristol is rich with culture, but it's the street art scene that really drew us there. Thanks in part to Banksy's influence, Bristol is renowned for its graffiti, and the colour of the streets and its buildings define the city. We have eye-level poster sites in key locations throughout the city that are distinctive yet melt into the energy of Bristol, including St Pauls, Montpelier, Bedminster, Stokes Croft and more.
Clients
Boiler Room
Bristol Clean Air
Bristol Hippodrome
Bristol Old Vic
Bristol Light Festival
Propyard
Team Love
University of Bristol
Wake the Tiger
Wild Place Project
Cardiff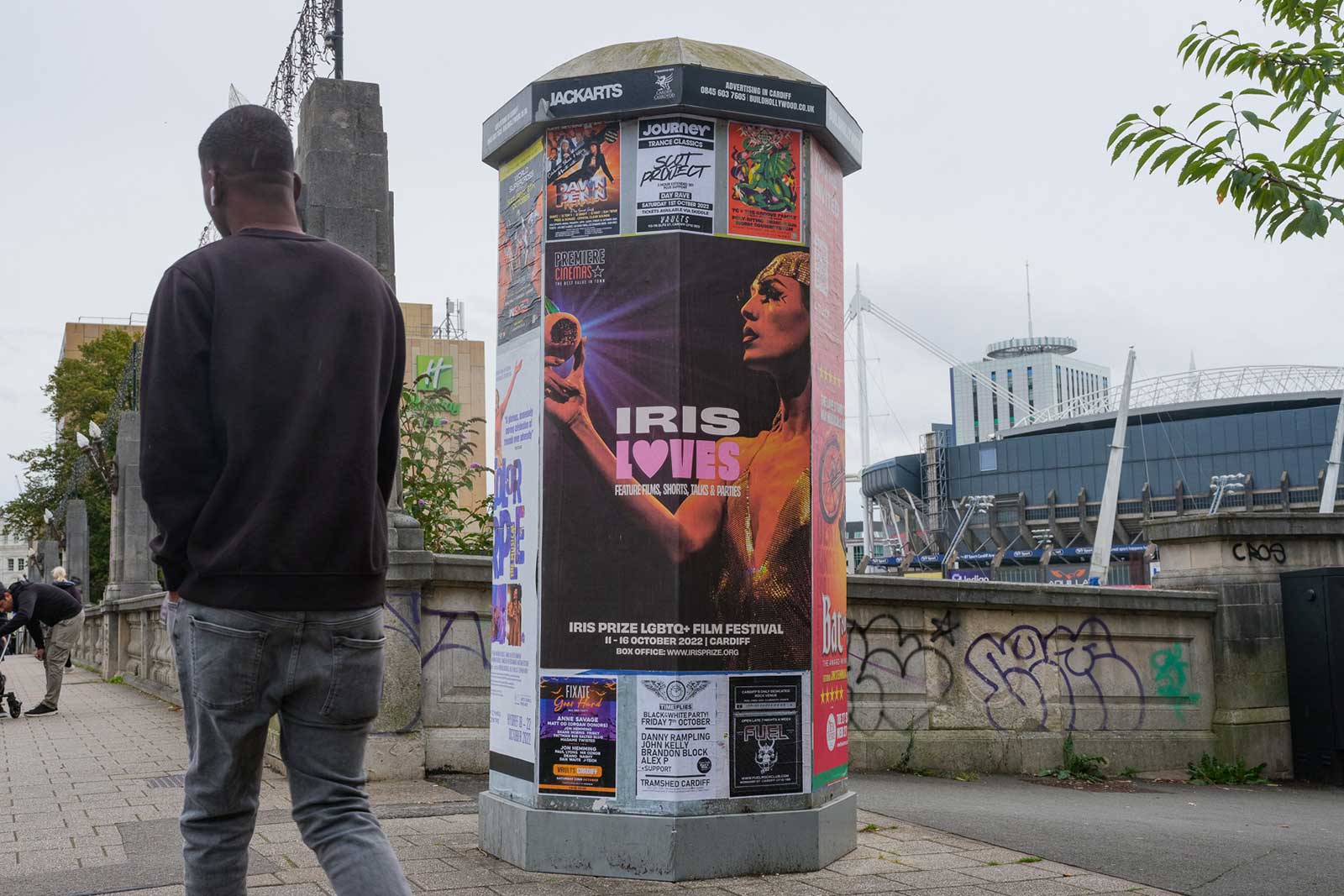 Cardiff, the capital of Wales, is also the country's most populated city, with residents buzzing through its streets. It's a major student town, with the prestigious Cardiff University and its attendees dominating areas of the city. It boasts a ton of castles, nature and more traditional attractions like the Cardiff Museum and St Fagans National Museum of History, as well as art-viewing spots like Off the Wall Art Gallery and Third Floor Gallery. Cardiff has a thriving alternative music scene, producing bands like Funeral For a Friend, Kids in Glass Houses and Los Campesinos! along those of the Cool Cymru era, like Manic Street Preachers and Stereophonics. Theatre is also a big part of its culture with venues such as The Sherman, New Theatre and St David's Hall.
Today, music fans can see bands at spots like the TramShed or any of the unique local bars, and visiting enthusiasts can swing by HUB Festival or Inside Out Utopia. We have sites throughout the cultural hotspots of the city, whether in the shopping district of Queen Street, the student areas throughout Cathays or nestled in with the bars and restaurants down the Bay.
Clients
Cardiff International Arena
Chapter Arts Centre
Depot
Golley Slater
Hay Festival
National Theatre Wales
New Theatre
Orchard Media
University of South Wales
Visit Cardiff
Wales Millenium Centre
Welsh National Opera
Dundee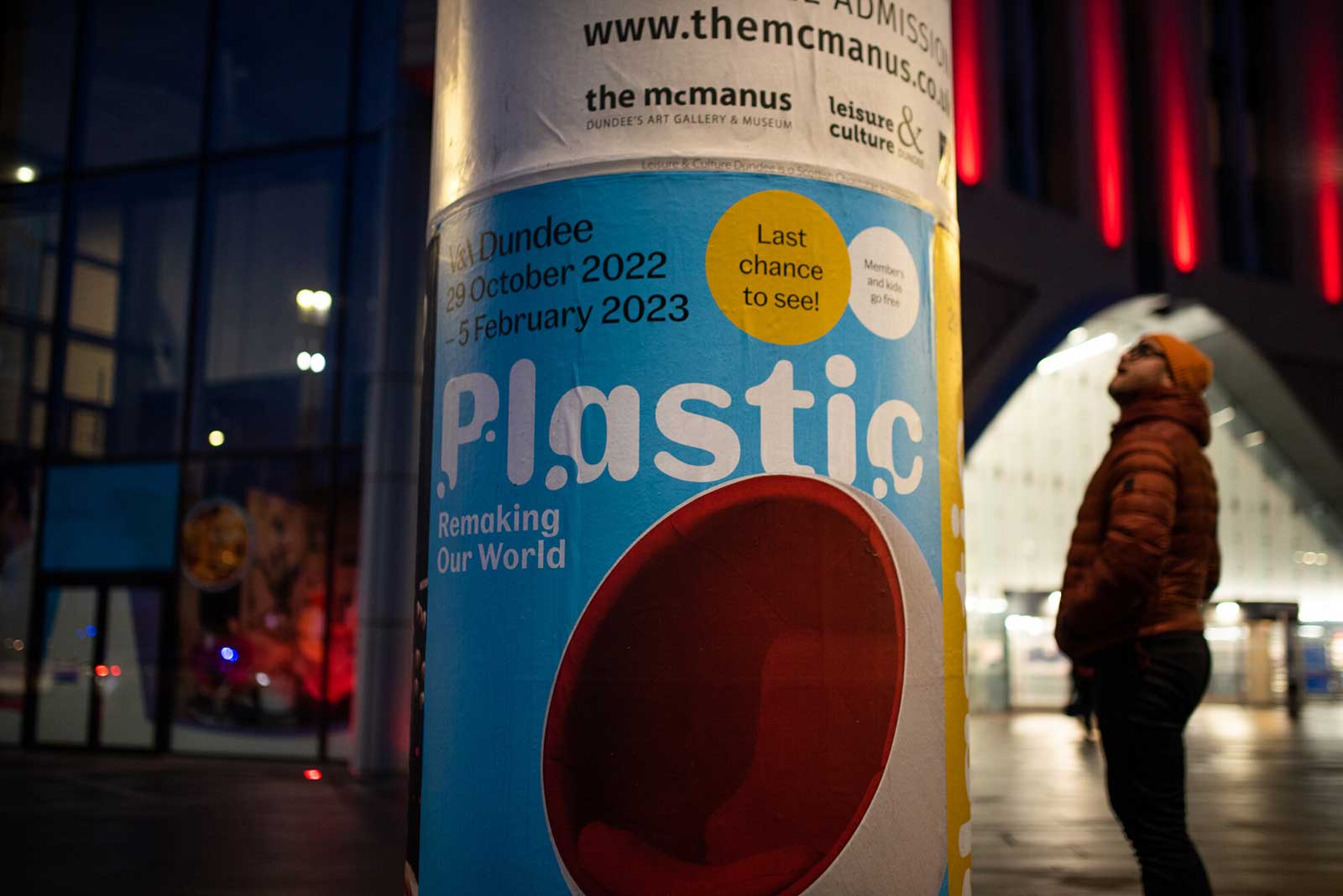 Maybe Dundee is one of Scotland's lesser-appreciated cities, but that doesn't mean we overlooked it. A coastal city, it's proud of its nautical culture, with two nautical museums proudly displaying several famous ships. With museums like the new V&A Dundee and archaeological museum The McManus, it's a compact, easily walkable city full of cultural highlights. Recently transforming into a lively city with independent culture, unique shops and an eclectic range of bars, Dundee has some unexpected hidden gems.
From Clarks on Lindsay Street to Duke's Corner, there are a ton of spots to check out new musical talent, and the yearly Almost Blue Festival and Dundee Jazz Festival bring in blues and jazz fans from all over the country. If you're on the streets you'll notice that Dundee has a thriving street art scene, with colourful graffiti, murals and floor paintings throughout the city. We have poster sites in key cultural and commercial areas throughout the city, contributing to that culture and getting people's attention.
Clients
Art Night Dundee
Caird Hall
D&A College
DCA
DJCAD
Dundee Rep
Dundee Women's Festival
Lamb Gallery
NEON
Perth Concert Hall and Theatre
Royal Scottish National Opera
V&A Dundee
Edinburgh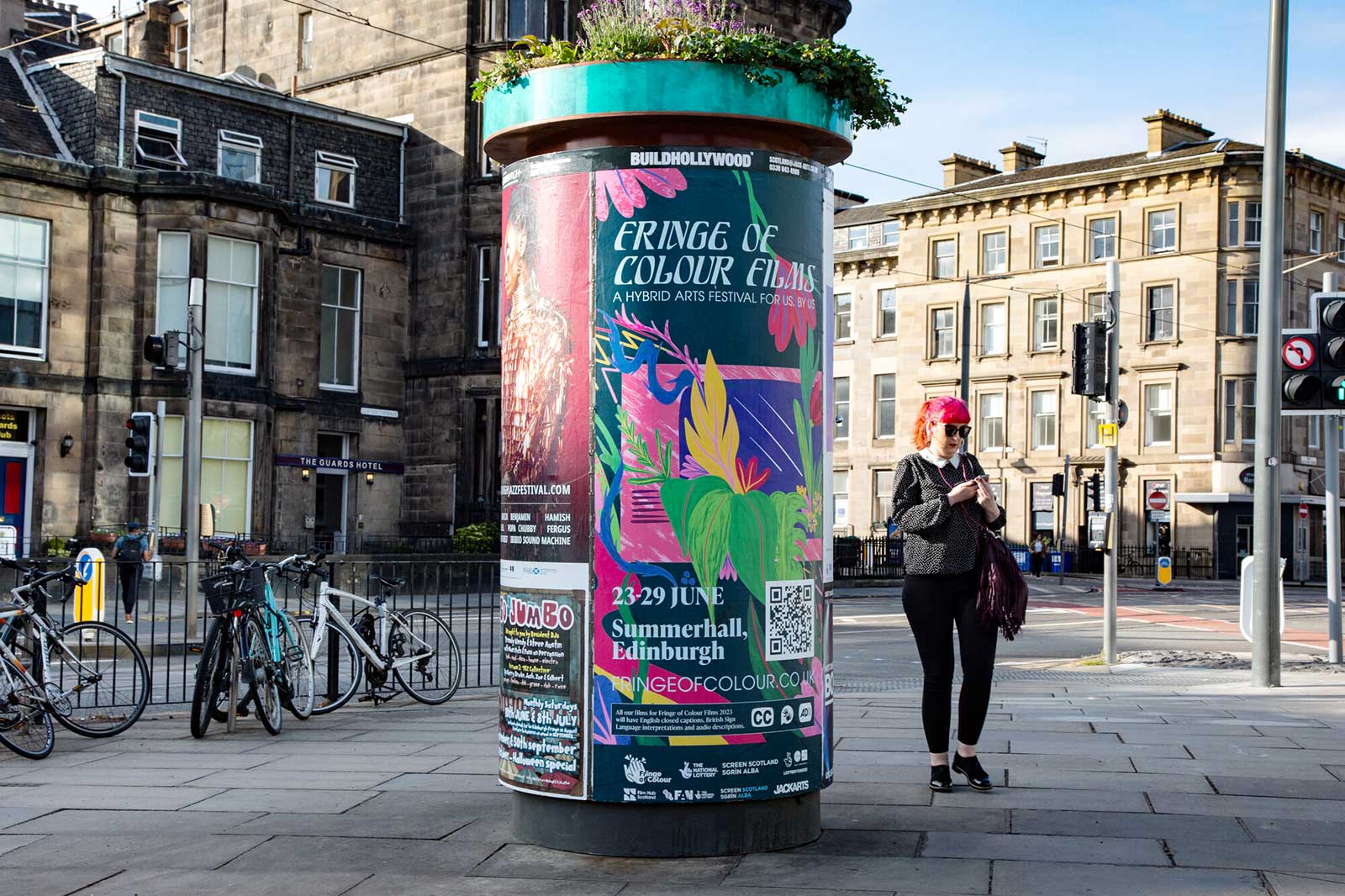 Edinburgh draws thousands of visitors a year wanting to enjoy its stunning vistas, breath-taking hills and unforgettable architecture. Overseen by Edinburgh Castle, the city is comprised of a medieval Old Town and a Georgian New Town, dotted with lush gardens, cemeteries and parks. For those willing to dig a little deeper, there's a thriving alternative scene, with independent shops like those on the eccentric Thistle Street and a huddle of unique bars threaded through the Old Town. If you're seeking something spooky, ghost tours and curiosities like Surgeons' Hall Museums and the William Burke museum will satiate that need for something weird.
If you're stopping by, Edinburgh boasts the unofficial title of Festival City due to its sheer amount of festivals. Whether it's the sprawling Edinburgh Fringe, the Edinburgh International Film Festival, Hogmanay or the Jazz and Blues Festival, there's something for every culturally-inclined visitor and resident. You'll find our sites at the most well-trodden spots in the city, including North Bridge, Market Street and Meadowbank, as well as near some of the city's most famed locations like Festival Theatre and the Lyceum.
Clients
Capital Theatres
Edinburgh Art Festival
Edinburgh International Film Festival
Edinburgh Jazz and Blues Festival
Edinburgh Stills Centre
Fruitmarket Gallery
Talbot Rice Gallery
National Library of Scotland
Glasgow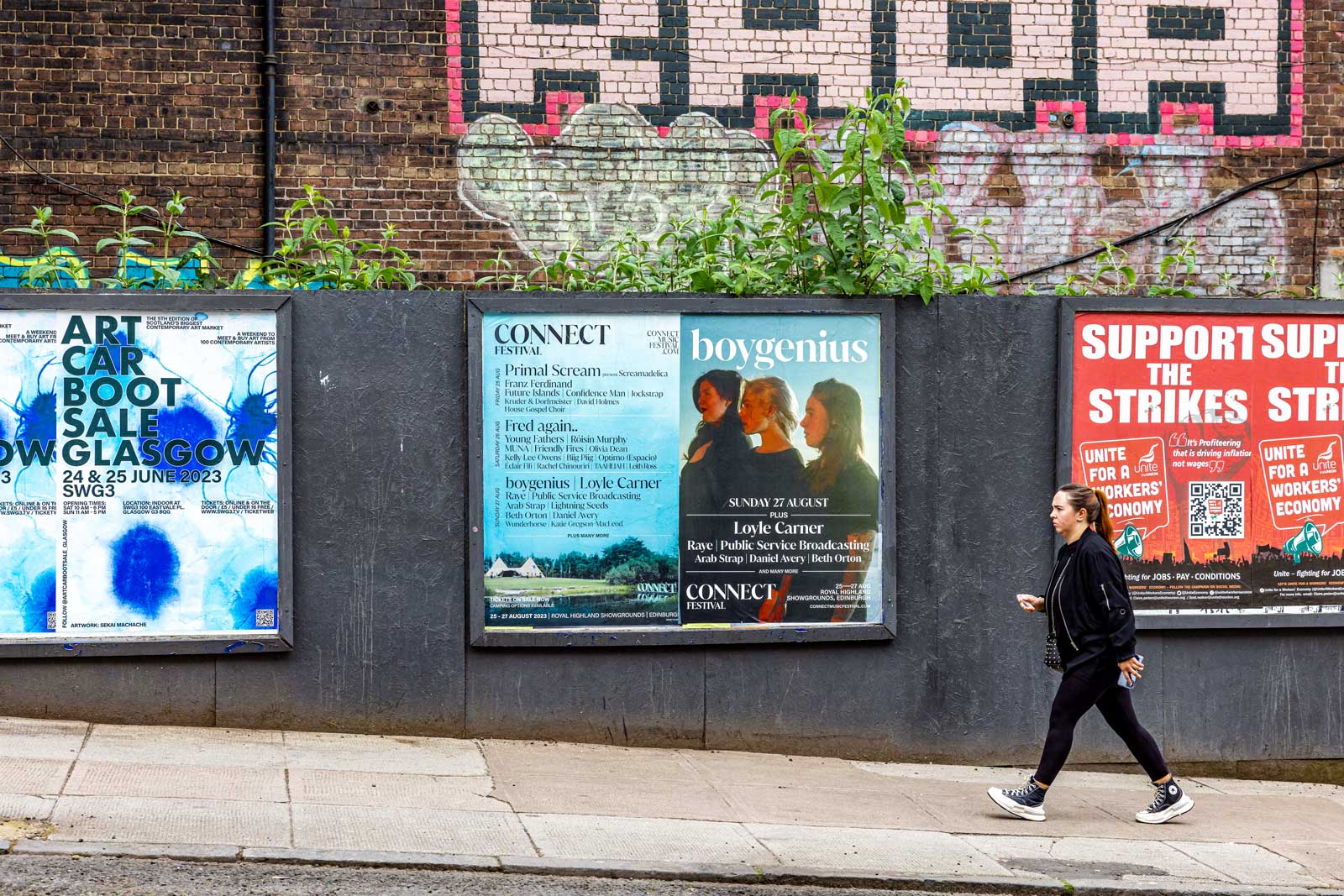 When visiting Scotland, some people sideline Glasgow in favour of Edinburgh, but we know it has just as much unique charm. The most populated city in Scotland, Glasgow sits on the River Clyde in the western Lowlands, enjoying sweeping views of the water. With stunning Victorian and art nouveau architecture, there's something for the classicist, whether it's the Scottish Ballet, the Scottish Opera or the National Theatre. For the artists, creatives and students who populate and visit the city, there's a thriving scene of secret bars, quirky cabarets, drag bingo, LGBT venues and alternative music.
Events like the Glasgow Festival of Burlesque, Riverside Festival and the Scotland Vegan Festival pull in culture-seeking visitors, ensuring there's always a reason to stay in Glasgow. We are proud to have sites all over the city's creative spots, including the Hydro, the Barrowland, the ABC Cinema, Kings Theatre, Theatre Royal and more, ensuring your messaging gets seen by the people who'll most appreciate it.
Clients
BBC SSO
Glasgow School of Art
Scottish Ballet
Scottish Ensemble
Scottish Chamber Orchestra
Scottish Contemporary Art Network
Scottish Opera
SWG3
The Tron Theatre
Liverpool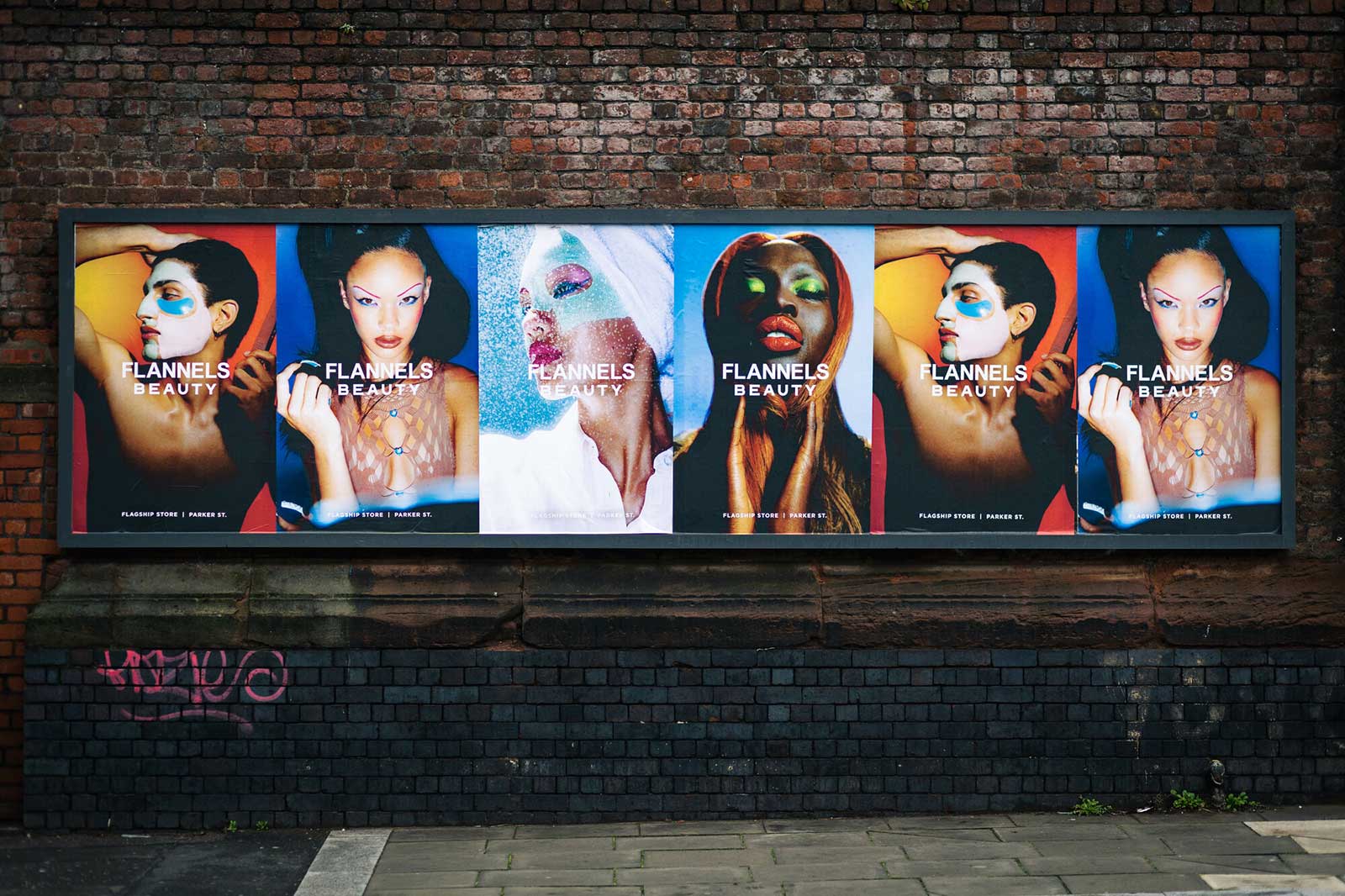 Every year, people come from all over the world to visit Liverpool just to see the birthplace of The Beatles, arguably our country's most famous export. What they often find is that there's a lot more to the city. Liverpool has the largest array of museums and galleries anywhere outside London: Tate Liverpool, World Museum, Walker Art Gallery and the Merseyside Maritime Museum are just a few spots you can kill a rainy day in. If you're drawn to Liverpool for its musical history, the British Music Experience or the Liverpool Beatles Museum make it an ideal pilgrimage.
Liverpool's connection with music perseveres, with yearly festivals like the Liverpool International Music Festival and must-visit venues like The Jacaranda or the Arts Club holding up its legacy. We're proud to have sites throughout the cultural hearts of Liverpool, whether it's the clubbing hotspots of Seel Street, Parr Street and Duke Street or the student centre of Mountford Hall on the University of Liverpool SU.
Clients
BBC Sounds
Flannels Beauty
Liquid Creative Agency
Liverpool Philharmonic
Tate Liverpool
The Bluecoat
Tonight Josephine
London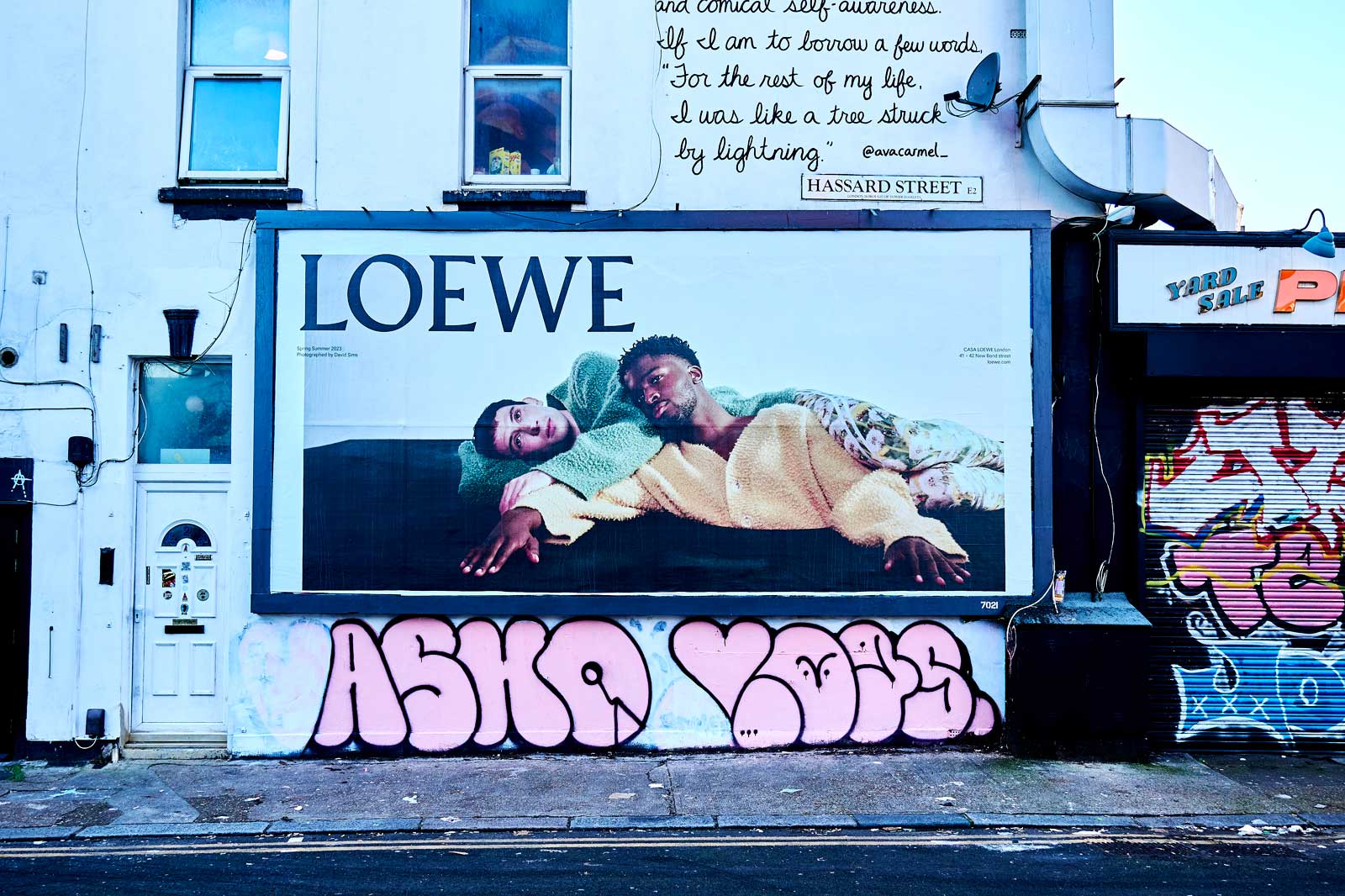 While the rest of the country has a lot to offer creative, forward-thinking tourists and residents alike, London is the centre of it all. Whether you're interested in visiting world-renowned art at galleries like The National Gallery and the Tate Modern or something a little more specialist at Whitechapel, the White Cube or Arcadia Missa, there's something for even the fussiest critic. Museums run the gamut, too, from The British Museum to lesser-known spots like the Horniman or the Bart's Pathology Museum. If you're looking to combine cocktails with something a little more niche, then The Last Tuesday Society has a bar and a museum of curiosities.
With tons of festivals every year, from All Points East to Field Day to Lovebox, there's something for everyone. We know better than anyone that London doesn't just belong to the tourists seeking Big Ben - it's a melting pot of cultures, foods and people that all contribute to what makes London special. We have billboard sites all over the city, both north and south of the river, and offer both eye-level spots and high-impact sites that can capitalise on the traffic that runs through London, attracting a creative and diverse audience whether it's in Kensington, Peckham or Shoreditch.
Clients
Tate Modern
Young Vic
Dazed
Barbican
Penguin Random House
AKA
Manchester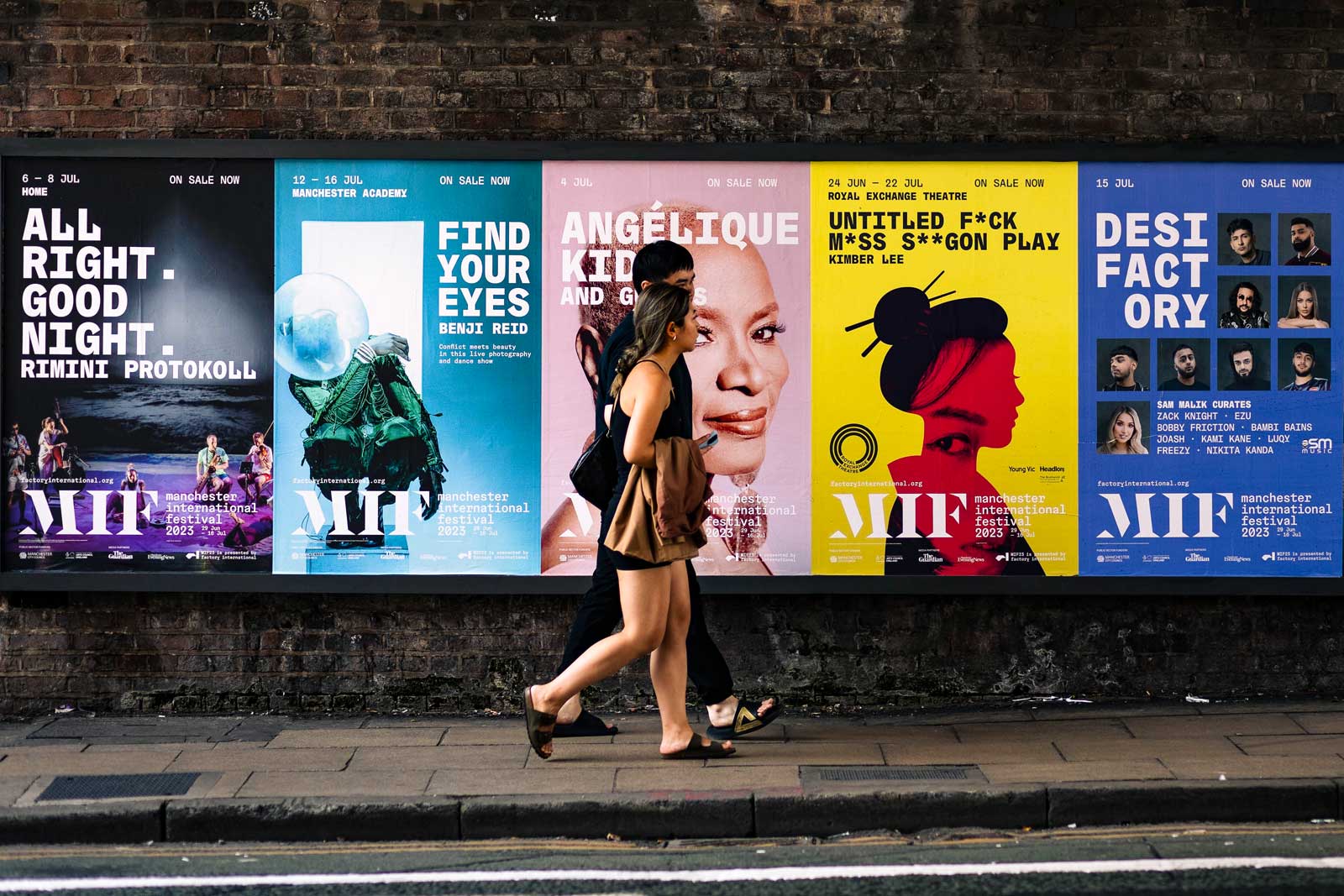 There's a reason they call Manchester the Capital of the North. Despite its relentless rain, it's far from grim, a vibrant cultural hub known for its output of music legends. With its iconic venues, from the Arena to HOME to The Lowry and the Albert Hall, Manchester and its surrounding areas gave us Oasis, The Smiths, The Stone Roses, The Chemical Brothers, Joy Division and so many more. It's not hard to see how: the streets of Manchester buzz with culture, whether it's Northern Quarter, Canal Street, Ancoats or the independent streets of Chorlton and Didsbury.
With alternative stores like Affleck's Palace and bars like music led YES MCR, Manchester is a home to so many creatives, students and artists, while events such as Manchester International Festival, Parklife, Pride and WHP bring tourists craving culture. That's why we're proud to have billboard sites in spots that highlight the city's individuality, whether it's in the student areas of Fallowfield and Oxford Road or next door in Salford.
Clients
Contact
Feel Good Club
Freight Island
HOME
Hope Mill Theatre
MIF
Parklife
The Lowry
The Warehouse Project
Vivienne Westwood
Sheffield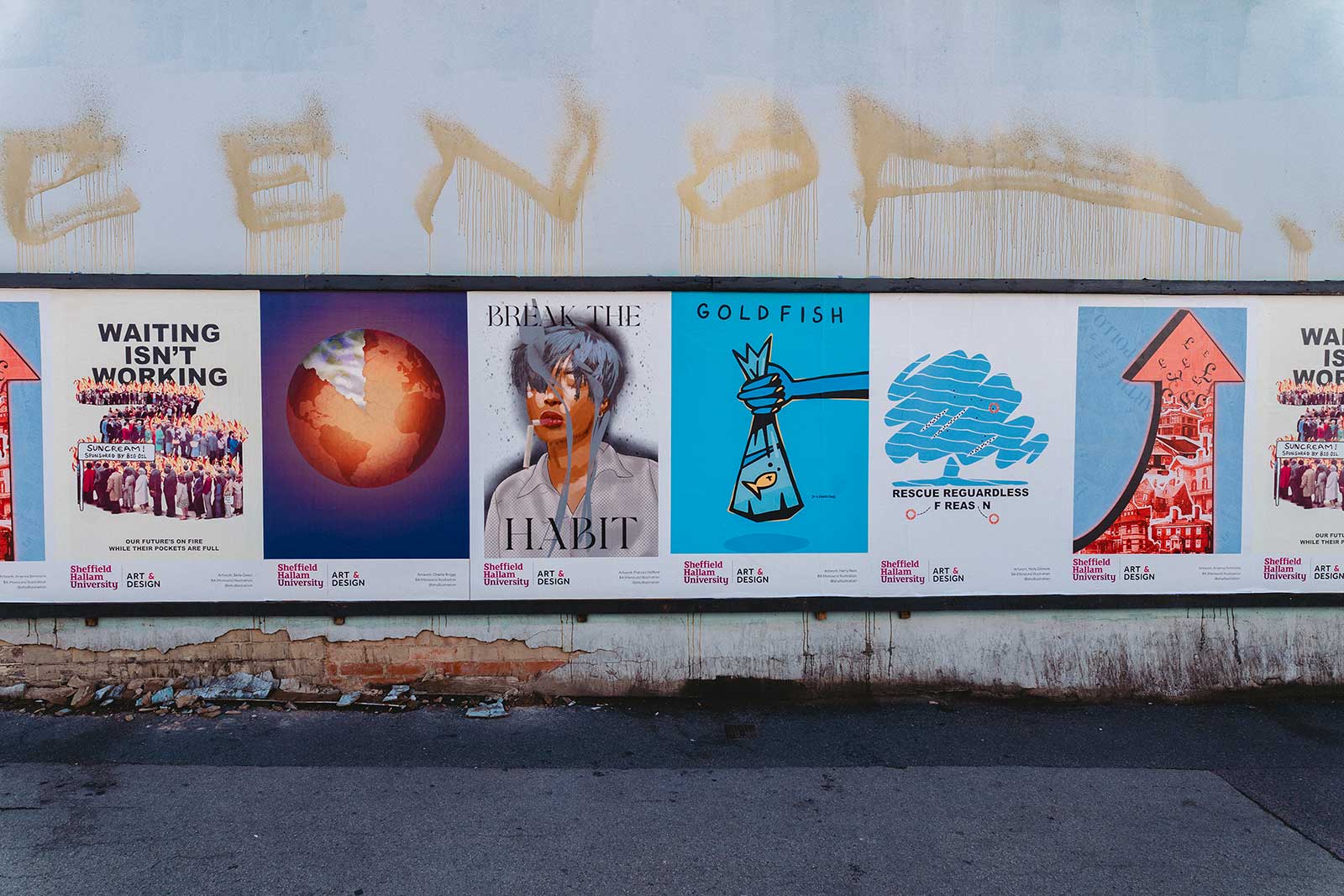 The Yorkshire city of Sheffield, with its history of industry and steel production, rarely gets the credit it deserves as a cultural hub. Despite being a huge, sprawling independent city partly famous for its incredible music scene. Over the years, Sheffield has produced some of our country's most memorable artists, with everyone from Pulp to the Arctic Monkeys imbuing their music with that unmistakable accent. With iconic venues like the Plug and the Leadmill and festivals like Tramlines, Sheffield is still producing and attracting artists both new and old.
Music aside, Sheffield is known as the "Birthplace of the UK Craft Beer", making it an ideal spot for a city break - you can try out some beers while traipsing the creative areas. We have poster sites nestled in the city's key arts and culture spots, from the theatre district of Norfolk Street to the student favourites of Carver Street and West Street.
Clients
The Leadmill
Millennium Gallery
O2 Academy
Sensoria
Sheffield City Hall
Sheffield DocFest
Sheffield Lyceum
Sheffield Museums
Showroom Cinema
The University of Sheffield
International
If you're looking for poster space in other cities across the globe, we've got you covered.